What, you thought there were only Summer and Winter Olympics? Well around here, we have Fall games. And we call them the 4th even if they're the 1st, because the Gold Medalist turned four!
Are you lost? I'm talking about Katie Wynn's olympic-themed birthday party!
Before I can go any further with this post, I must give a HUGE thank you to Beth and Patricia for taking pictures for me. They were awesome to click away during the sweltering heat and got some great action shots of all the kids (over 700 of them combined!). All photos in this post are credited to one of them.
The week leading up to Katie Wynn's party was SO busy, so I feel like it was thrown together very haphazardly at the last minute. Late one evening, I stood at the kitchen counter and quickly painted signs for each of the six events.
I did, thankfully, purchase a lot of decorations and supplies from Oriental Trading in advance. The day before the party, Matt worked to construct each of the events and I baked the birthday cake. Thanks to Anna and Lala for separating all the M&M colors for me! (Pop quiz: guess which color had a LOT more than all the others...it held true for both bags that we separated.)
We woke the kids up from their naps and got them dressed for the Olympics right before our invitees arrived. Shout out to my Mom for making their shirts the morning of the event!
I really wanted this to feel like a real sporting event that our guests (participants) were coming to, so I fashioned our lemonade stand into a Registration Booth. I had originally planned on having cute t-shirts made to hand out (like you would get at a 5K) but waited too late to get them done in time. I did make bib numbers, though, so each registrant was able to pick theirs up from here. On the invitation, we requested $4 donations to charity (Special Olympics) in lieu of gifts. Those could be dropped off here too.
In all honesty, I had a good little panic after our guests arrived when I realized I didn't really have a plan for the Opening Ceremony. I was suddenly so mad at myself for not ordering the inflatable torch on Oriental Trading that I didn't think I would need. Grrr. But what are the odds that one of my mom friends had her daughter's paper torch craft project from pre-school still out in her car? Winning! We lined the kids up, handed one the torch (birthday girl didn't want to carry it), Matt hit play on the Star Spangled Banner, and we walked them around the yard and up to the edge of the patio.
Truth talk: I've never seen an opening ceremony for the Olympics. What the heck happens at them? At ours, I gave a few little "Who's excited to play games today?!" cheers to the participants and that was it. The original plan was to have Anna and Wyatt help take groups through the different events, but since they weren't able to make it at the last minute I didn't really have a plan B. Panic started to set in again but our friends and family totally stepped in and helped out. This was an all-hands-on-deck party if ever there was one.
The original plan was to have Anna and Wyatt help take groups through the different events, but since they weren't able to make it at the last minute I didn't really have a plan B. Panic started to set in again but our friends and family totally stepped in and helped out. This was an all-hands-on-deck party if ever there was one.
The Long Jump consisted of a line drawn in the grass (yard spray paint) and a board that I'd marked out four feet of measurements on. I should've known that my older nephews and niece could jump farther than that. Oops.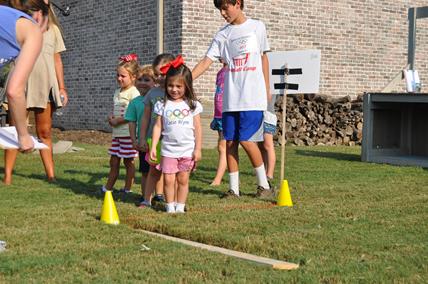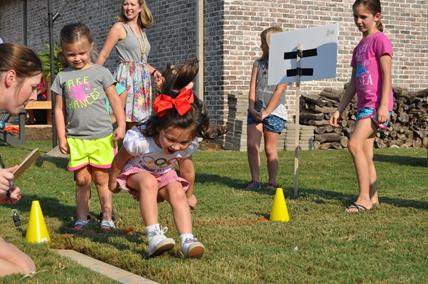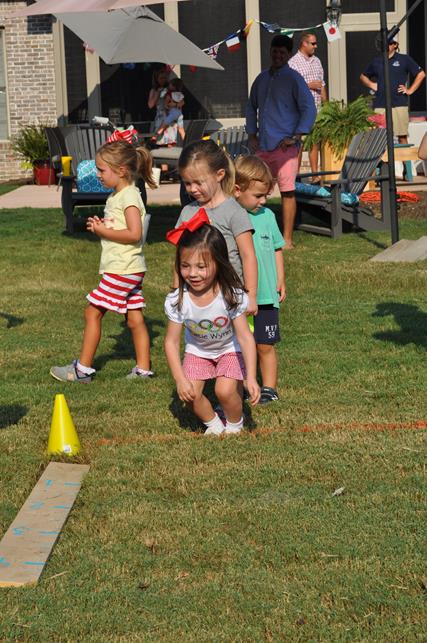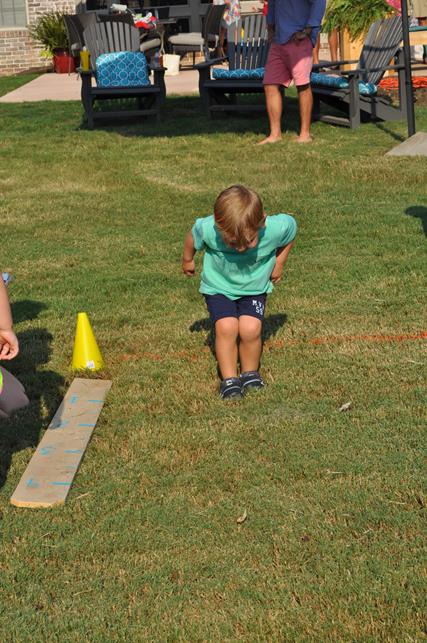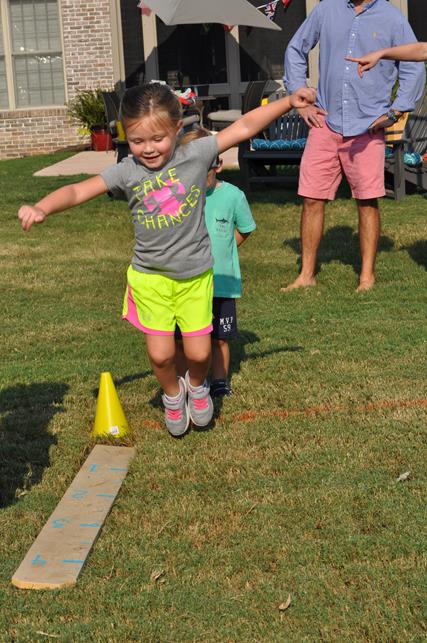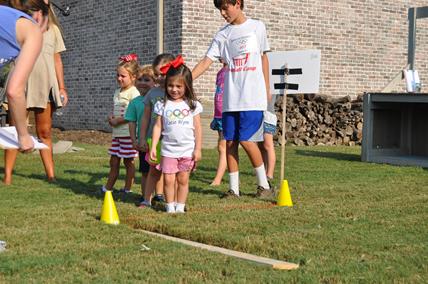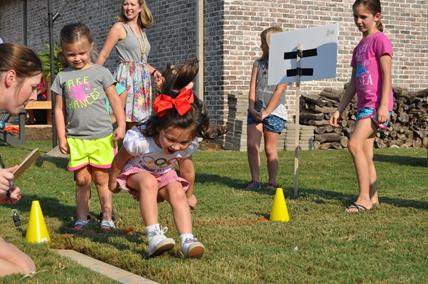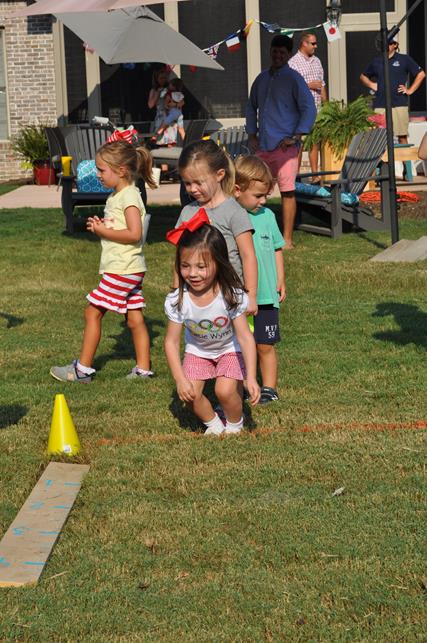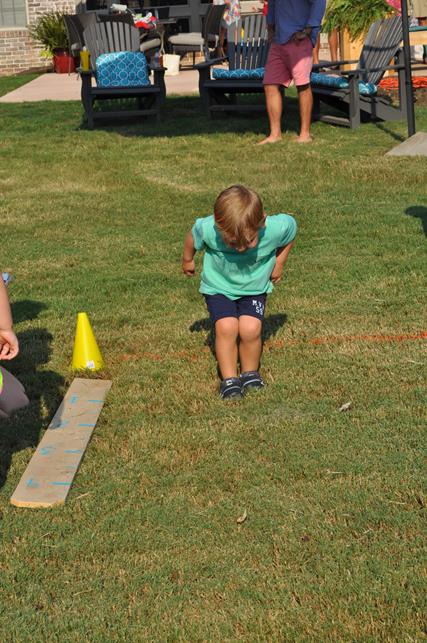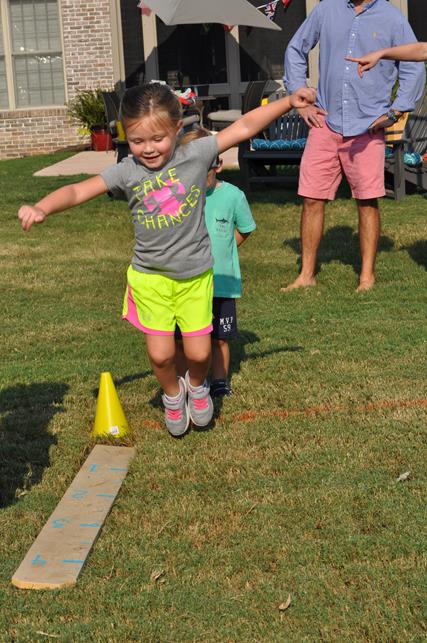 The High Jump was a last minute addition since Katie Wynn had just gotten the new trampoline as her birthday gift and it was going to be out in the yard anyway. We just let the kids get in and jump around for this event. And it was the event that was pretty much impossible to photograph.
Matt constructed our Balance Beam out of a 2x4 and three blocks of wood. We had no time to paint or pretty it up, but I'm pretty sure the kids didn't notice. :)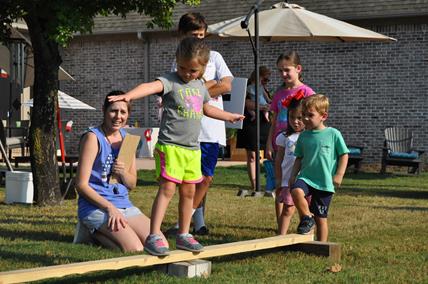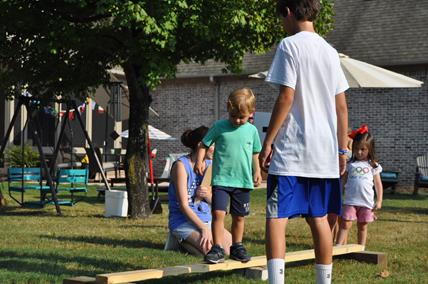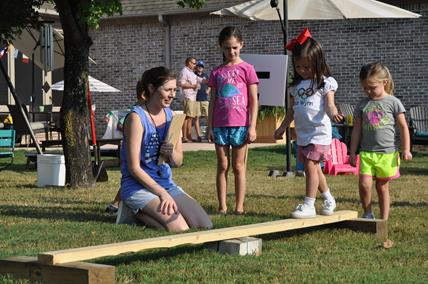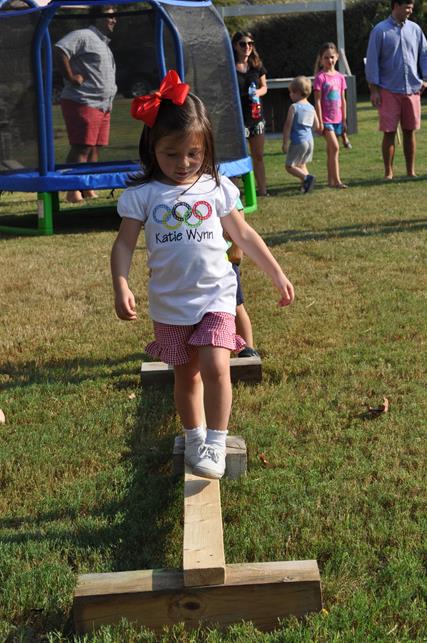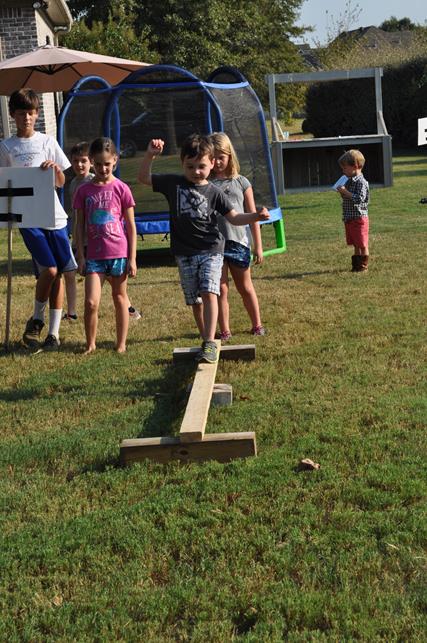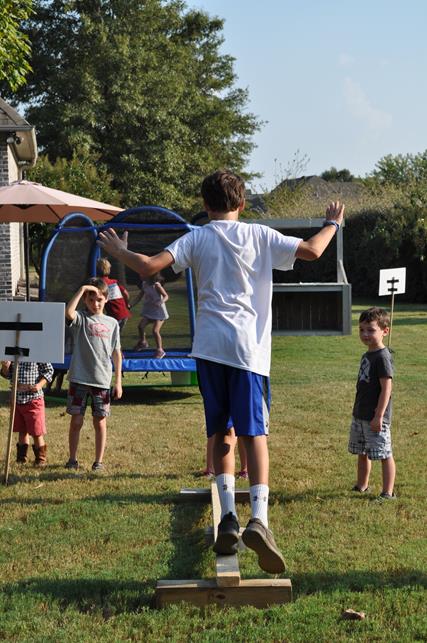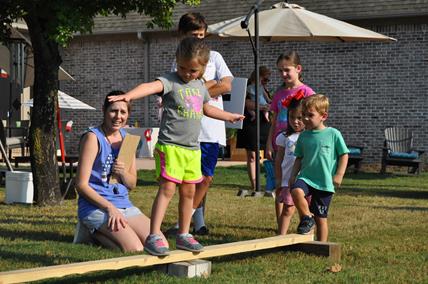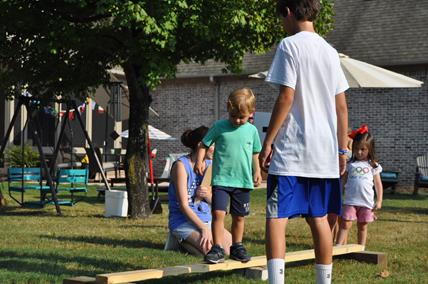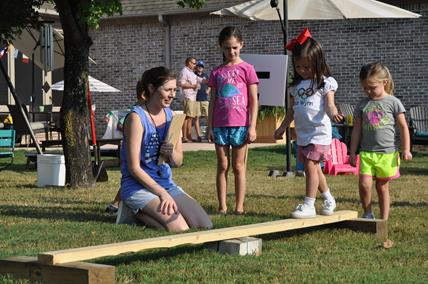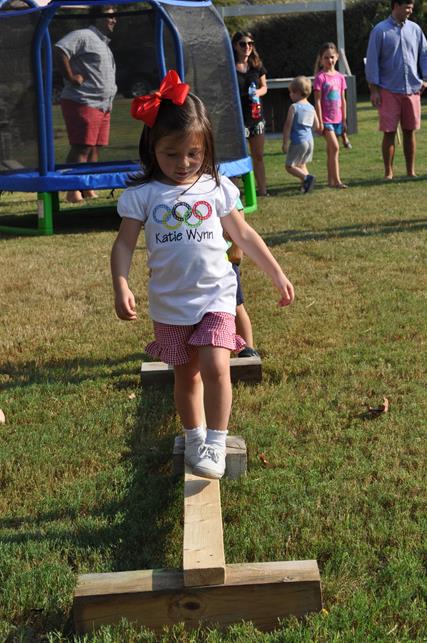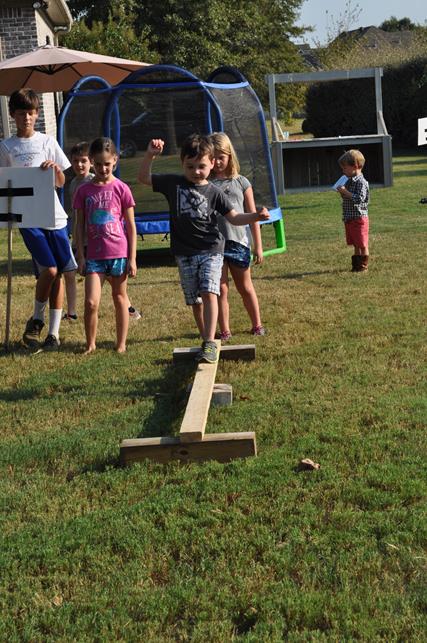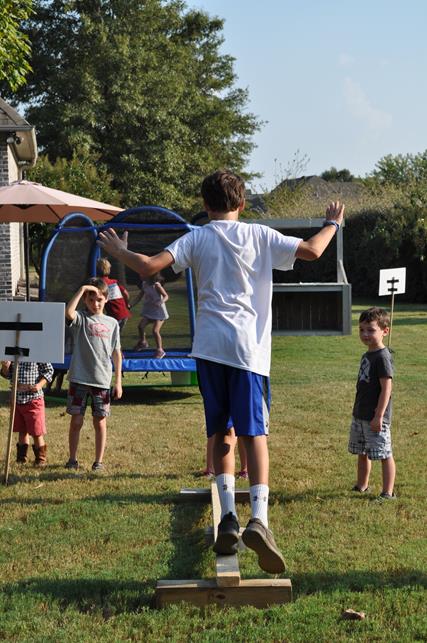 For the Hurdles, Matt string pool noodles between two yard stakes about a foot off the ground. They were perfect - cheap, easy to make, and didn't hurt the kids or break if they accidentally hit them.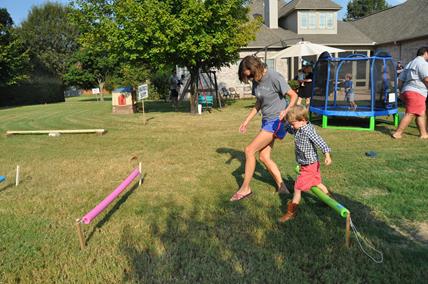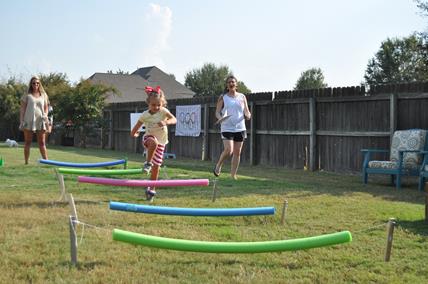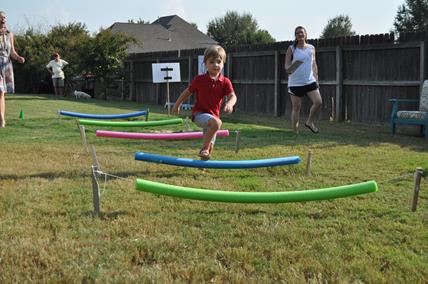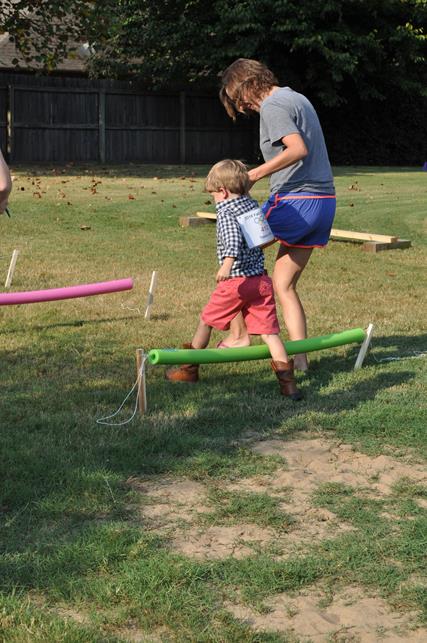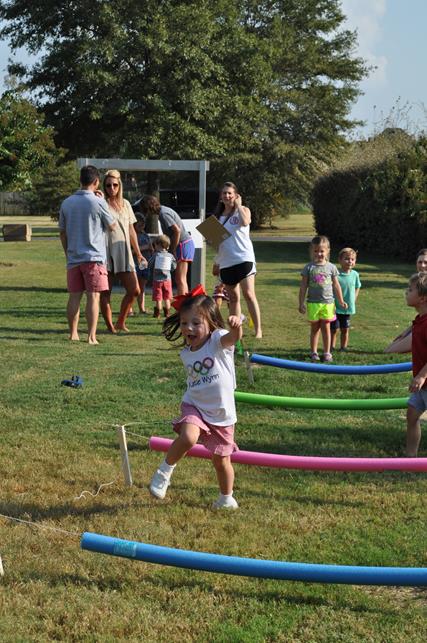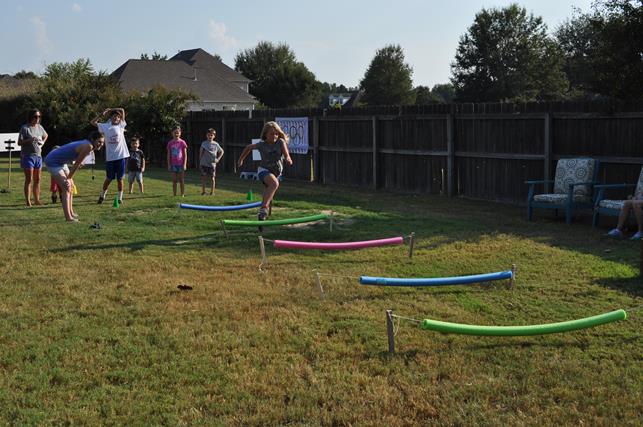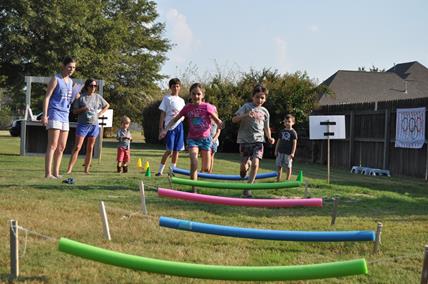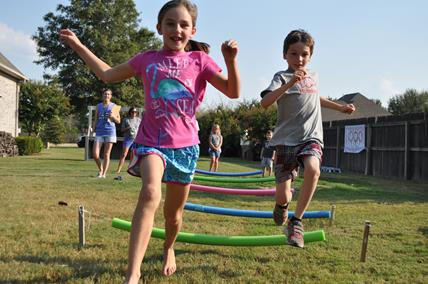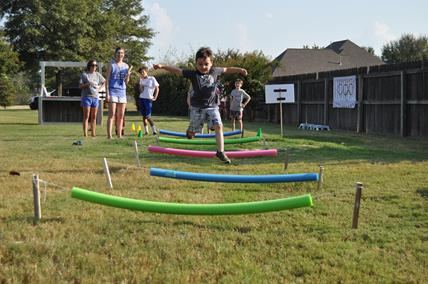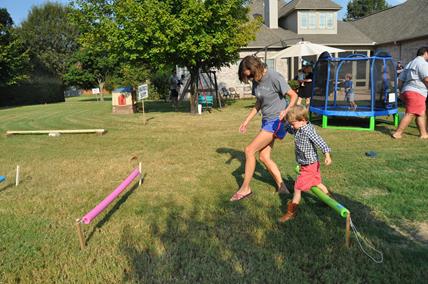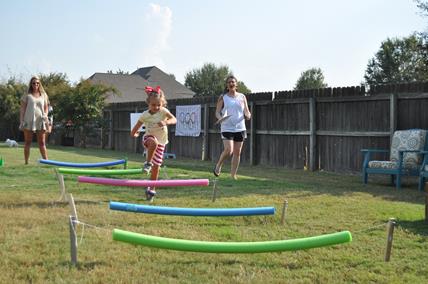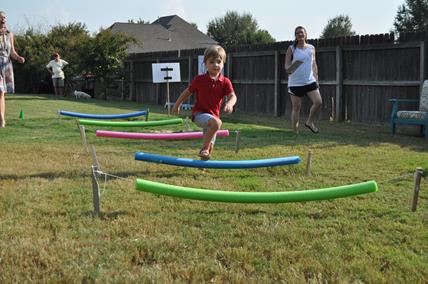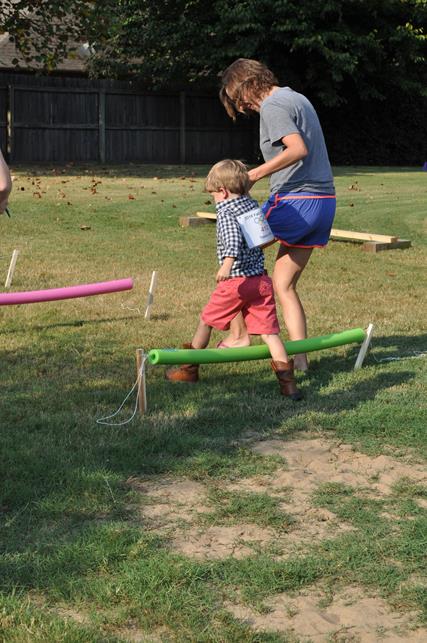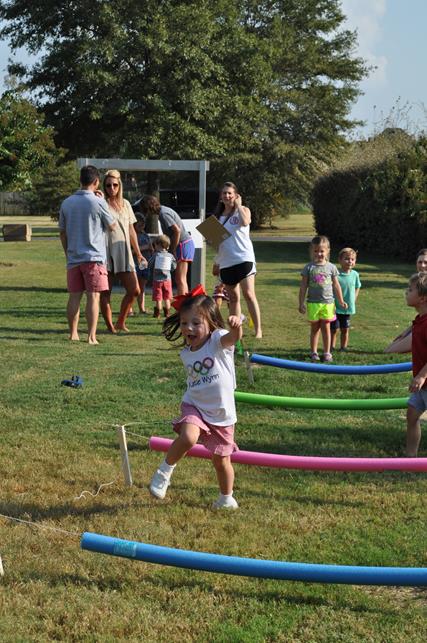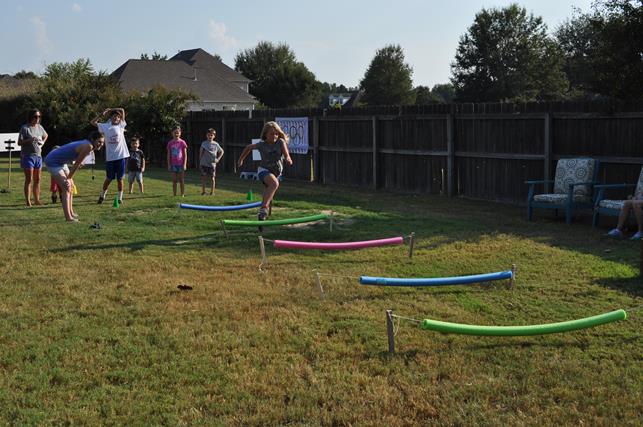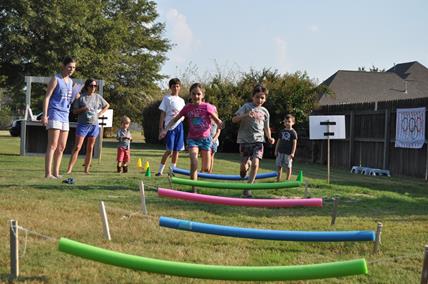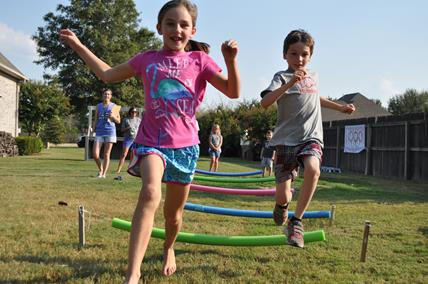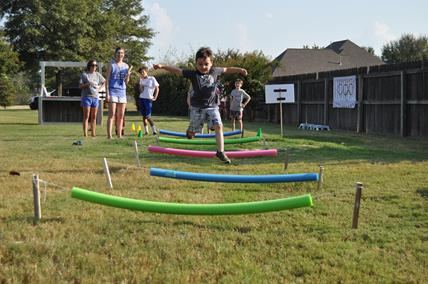 One of my favorite parts of the whole event was during the 20 Yard Dash. My group of three were the first to do it. I got them in position at the starting line while my brother and nephew held up the finish line ribbon. (See? All hands on deck.)
I blew my whistle and they were off!
They ran as hard as they could!
Soon, they were approaching the finish line and then...
...they slid under the finish line tape as if they were sliding into home base.
It never occurred to me that they hadn't ever seen a real race and wouldn't know to run through the tape! As you can see from the picture of me in the background of the photo above, I thought it was hilarious. Still do, actually.
And because I can't leave a perfectly in tact finish line alone...
The rest of the Olympians were properly coached to go through the tape instead of under it.
I purchased colorful rubber balls to use for the Shot Put and each participant got to choose two to throw. Some of these pictures may look funny because in order to make it harder for the bigger kids, I made them throw theirs through their legs.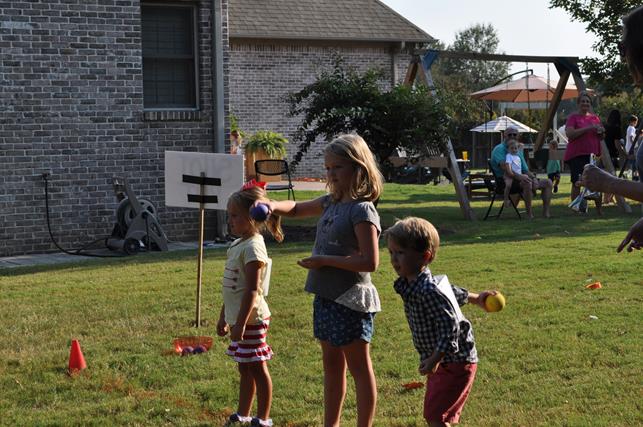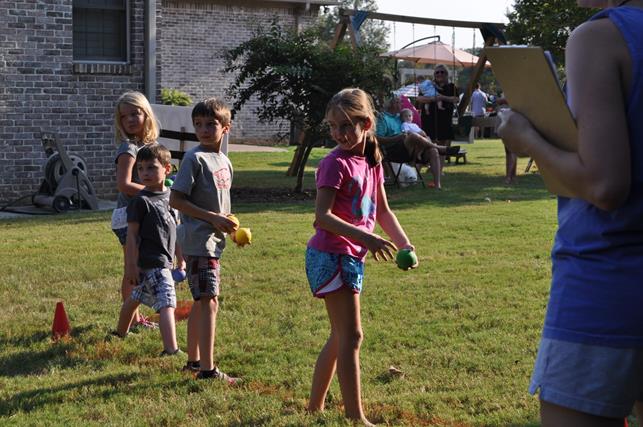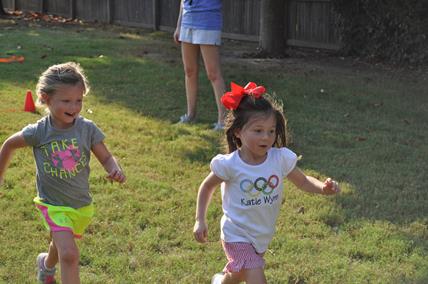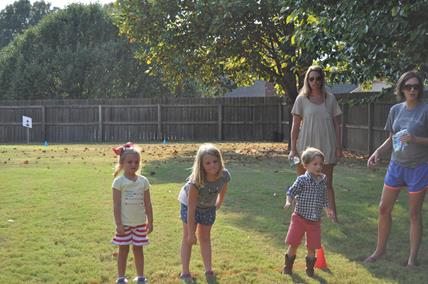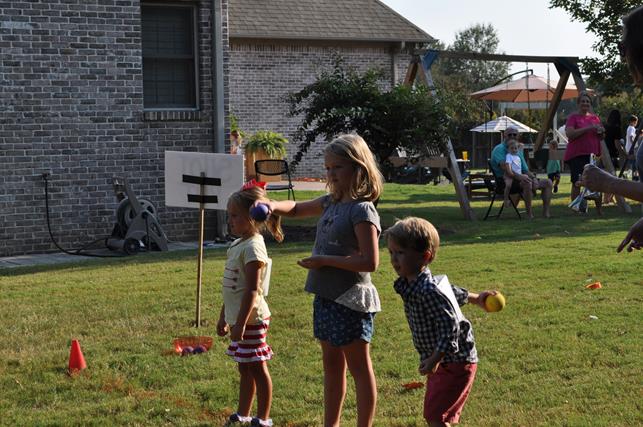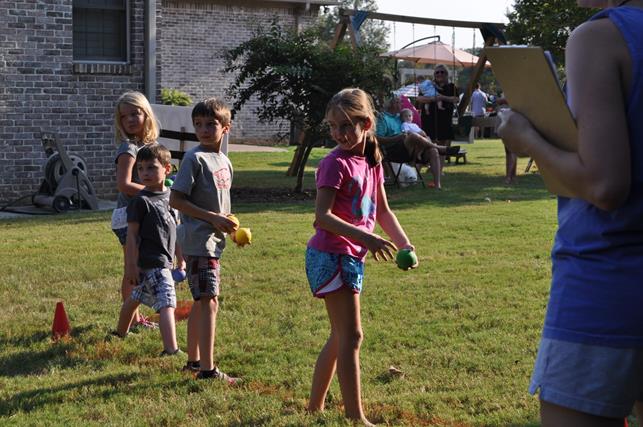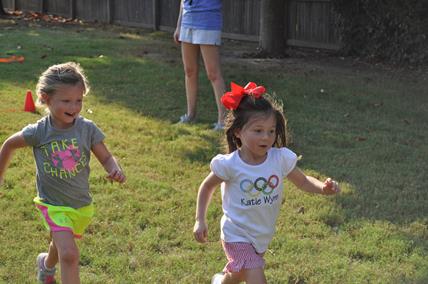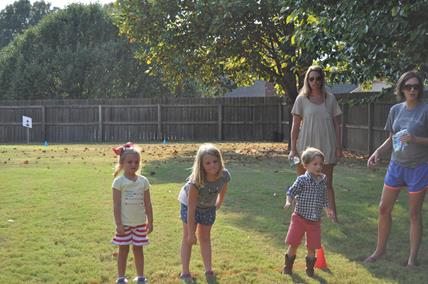 Here are a few pictures of some other fun happenings going on at the same time as the events.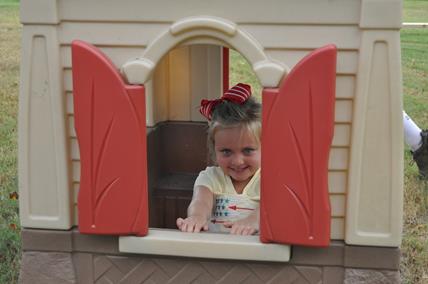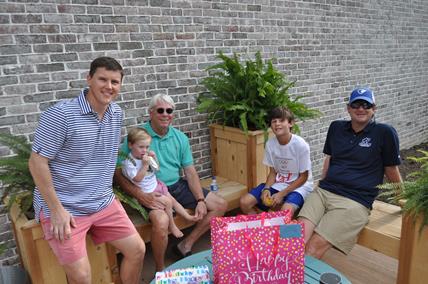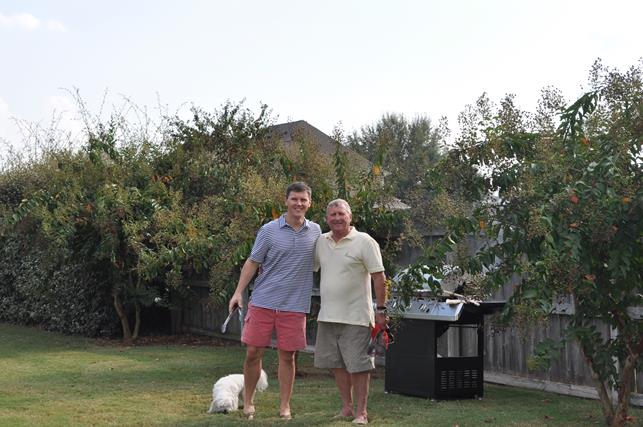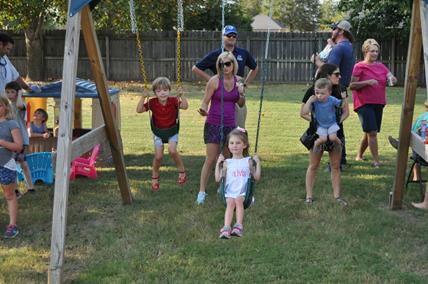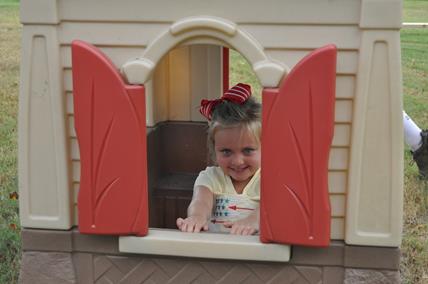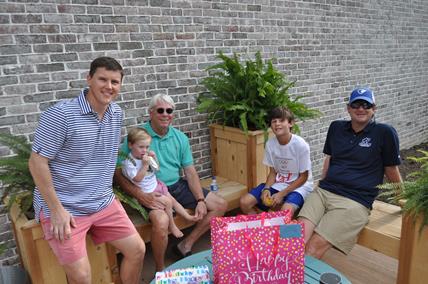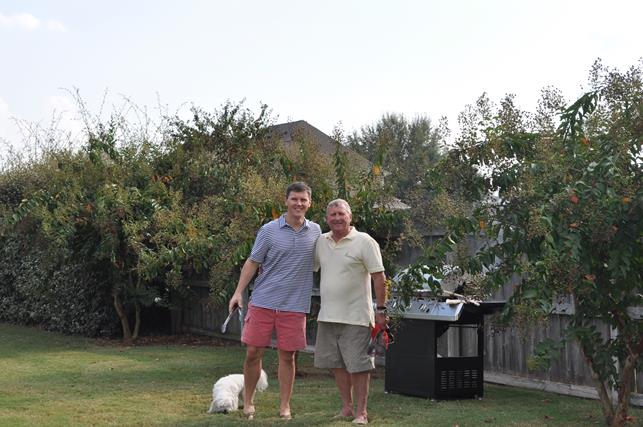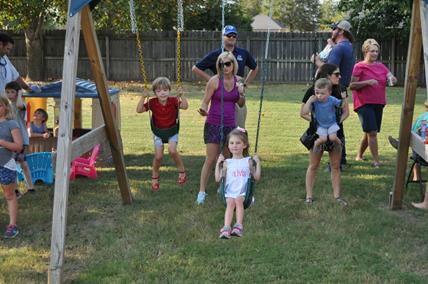 After the games, this silly girl enjoyed getting cold drinks out for everybody. Did I mention that this took place on possibly the hottest September day ever??
Here is something I love about kids: they're instantly friends. Look at how they're all gathered around this little table talking while waiting for the cake. These are friends from school or church, and some of my friends' kids and they're all different ages but who cares? They're all just hanging out. Or maybe they all just want cake. Whatevs.
This girl that had been running around playing all afternoon reverted back to her shy ways when we started singing Happy Birthday to her.
It took a couple tries but she got those candles blown out! :)
And finally, you can't have Olympic Games - even Fall ones - without handing out medals. All of our participants got to stand on the "podium" to receive their Gold Medal. Honestly, I was surprised at how excited all the kids got about this part!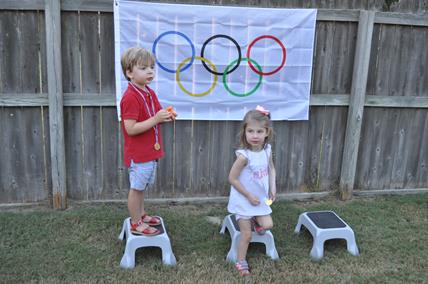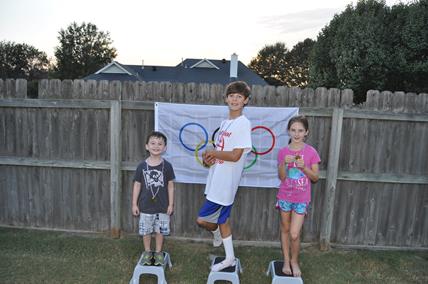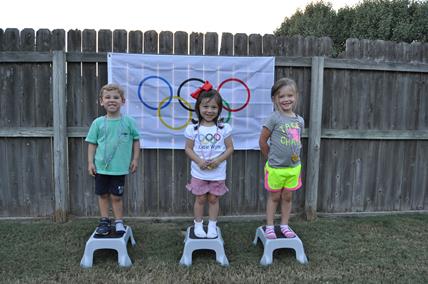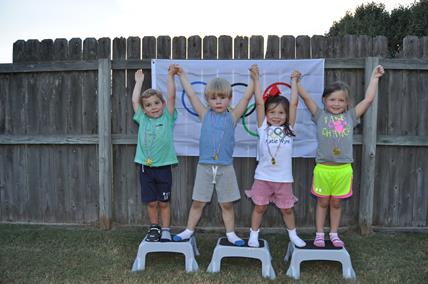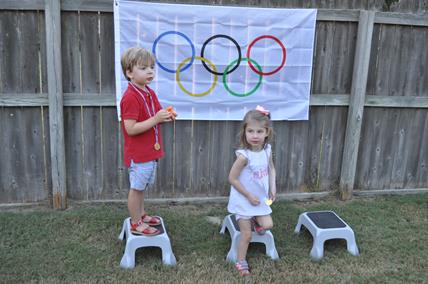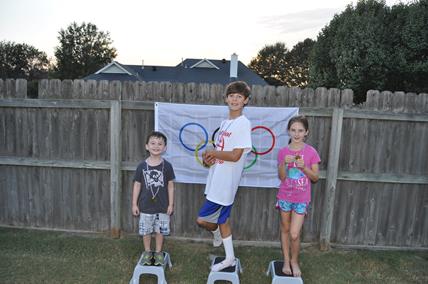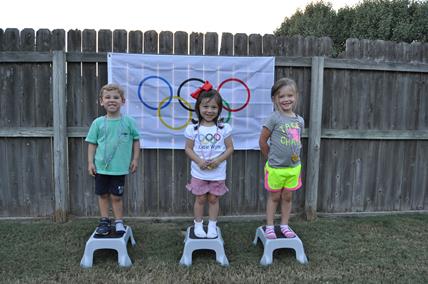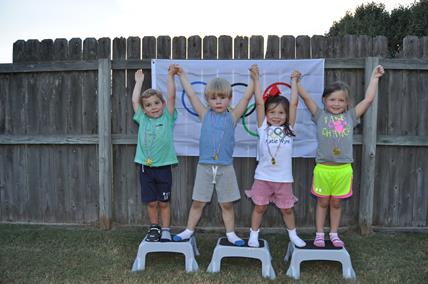 As our guests got ready to leave, Katie Wynn loved passing out favors to them.
It was super hot, a little chaotic, and I panicked a couple of times, but in the end, it was a super successful party and the birthday girl had the best time ever! We were all exhausted when we crawled into bed that night but the memories made were totally worth it.