When you have a little boy that loves trucks and playing in the dirt, it's not hard to figure out a theme for his birthday party. :) For his second birthday, we got him a new dump truck (or five) and a pile of dirt and the party setup was pretty much done!
As you can see from the invitation above, we instructed the kids to wear old clothes so that they could play in the dirt! Other than the dirt pile, my decorations and set up were very minimal. The party was originally scheduled for a Saturday but with rain in the forecast, it got moved to Sunday at the last minute. Of course, then it was sunny and hot, so we tried to make a shade canopy out of a tarp for little kids to be under.
Before I go any further, let me note that, like with every other birthday party we've had, I had a photographer come take pics of the fun for us. Most pictures in this post are credited to Kasey McAlpin.
Oriental Trading was my friend when it came to decorations and favors. I just ordered the construction theme stuff they had - caution tape, caution slap bracelets, construction glasses, flimsy plastic hard hats, and the cutest little orange cone cups I ever did see. Matt picked up the Caution signs from Home Depot or Lowe's and I "scribble scrabbled" (Katie Wynn's term) on them literally minutes before the party started.
Thomas certainly did not need any new toys - he already has tons! - so in lieu of gifts, we asked our guests to bring a package of socks. We later donated them to the Memphis Union Mission - a shelter for homeless men that provides them with a place to sleep and a clean pair of clothes each day. I feel certain that they appreciate the new socks very much! At the entrance to our backyard, I set up a wheel barrow with a sign for Construction Crew Socks so our guests would know where to leave them.
The nice thing about it being from 3 to 5 is that I didn't feel obligated to serve a meal. We had cake, ice cream, and drinks and called it a day.
Quick attempt at a family photo before our guests arrived. Not sure it was successful.
Now usually, Thomas is all about playing in some dirt. But, he's shy like his sister and had just woken up from a nap, so he wanted nothing to do with it for a while. In fact, for the first 30 minutes or so, I worried that the party was a big ol' flop.
My sister-in-law, Erin, arrived with my nephews and they were the heroes that saved the party! Those boys weren't scared to get dirty and it just took seeing them for all the other kids to realize they could go really play in the dirt too. Phew!
Here is a gallery of lots of pictures of the kids playing in the dirt. Use the arrows on the sides to scroll through!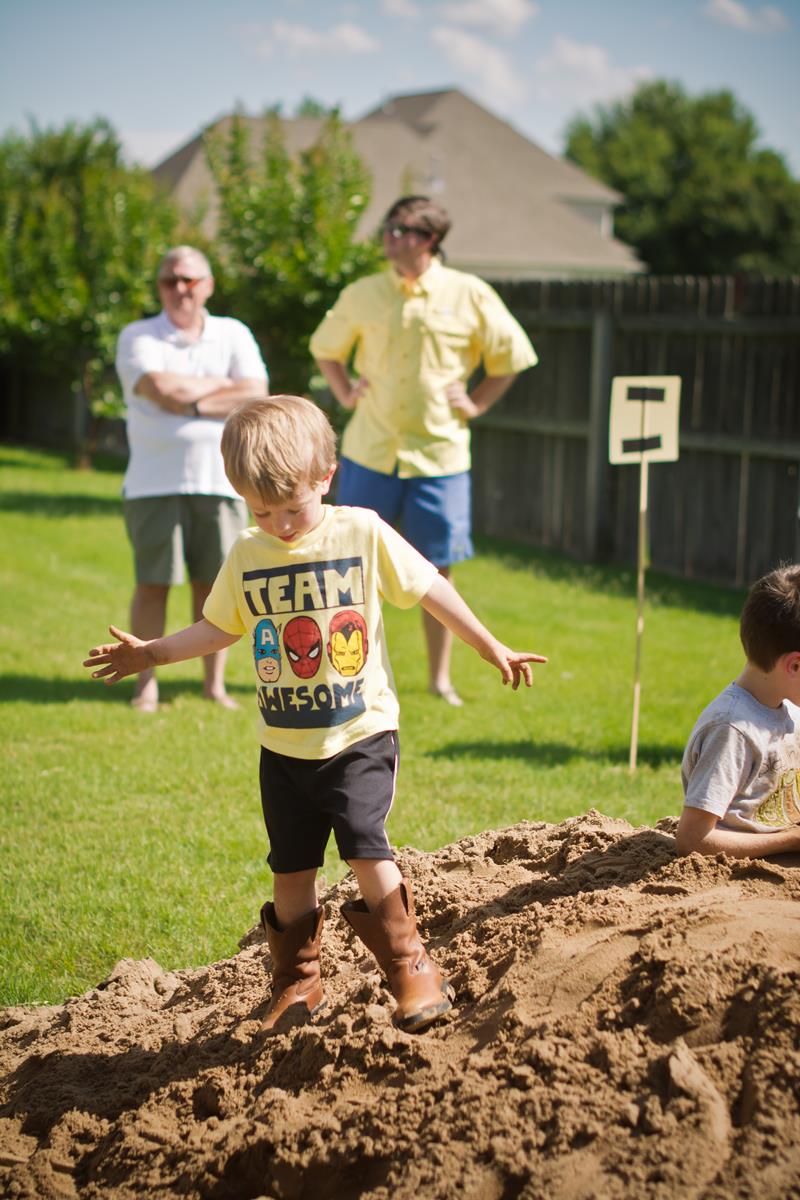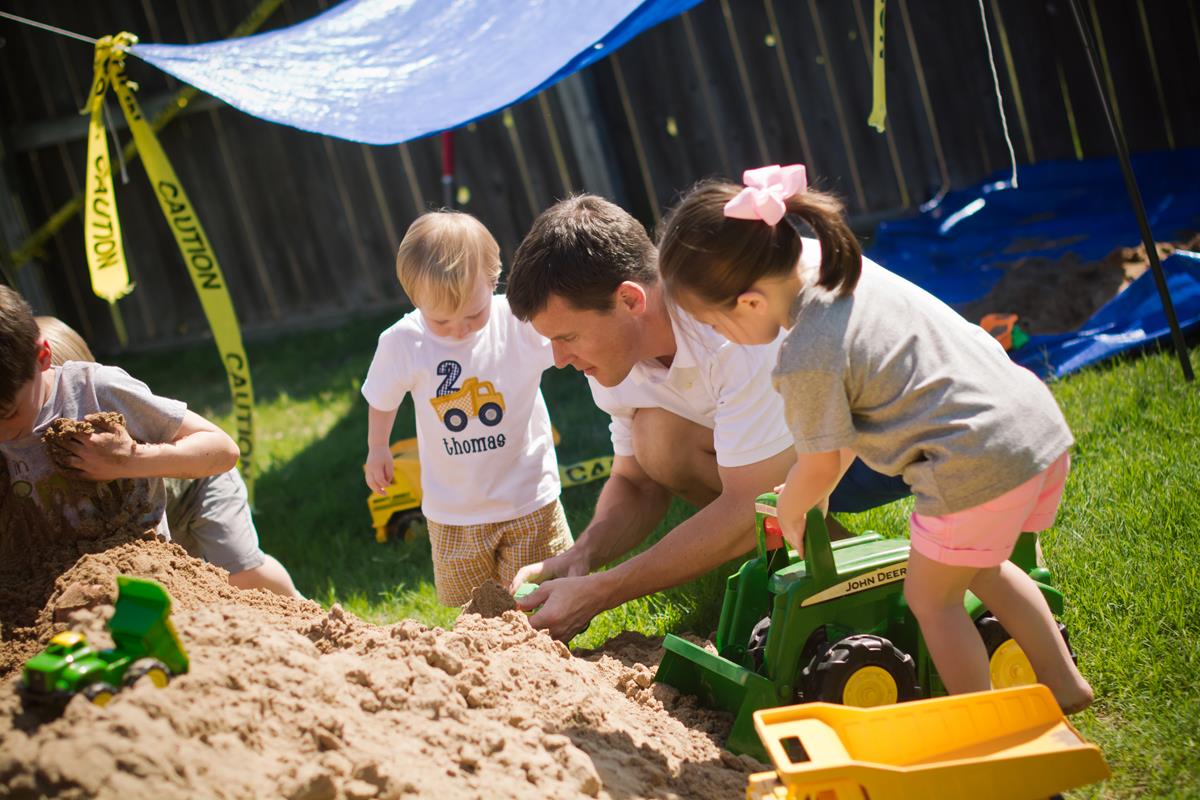 I had orange plastic cones out around the dirt pile (leftover from Katie Wynn's car wash party) that ended up making great shovels for the kids. Glad I thought to get them out!
When kids weren't in the dirt, they were busy swinging or playing in our hand-me-down playhouse.
Across the yard from the dirt pile, we had a wash station set up to clean off dirty hands and feet. Everyone got a quick rinse before cake and ice cream.
My nephews had to get a complete scrub down, but I let my Dad handle that. :)
With everyone clean, it was time for cake! This was probably one of the easiest birthday cakes I've made. I iced a chocolate cake with chocolate icing, used crushed oreos for some dirt and plopped on a couple of construction trucks. The orange cones were the candles.
Guess who got shy again when everyone started singing?
Matt just blends in with all the kids. :)
Our photographer needed to leave shortly after cake and ice cream, so we tried one more time for a family picture. I'm not sure these are any better than the one at the beginning of the party!
I also had her get the four grandparents because I feel like I never have pictures of them!
Now, just because the photographer left, does not mean the fun ended! The rest of these pictures were taken by either me or my mother-in-law, Patricia.
After cake and ice cream, Thomas decided he wanted to check out that water bucket one more time. It was only seconds before he climbed in it to play.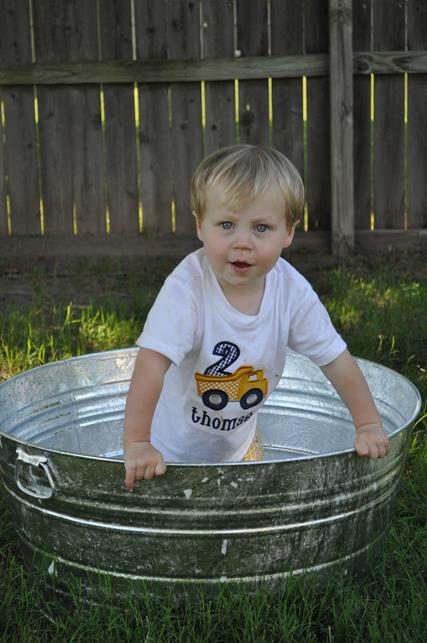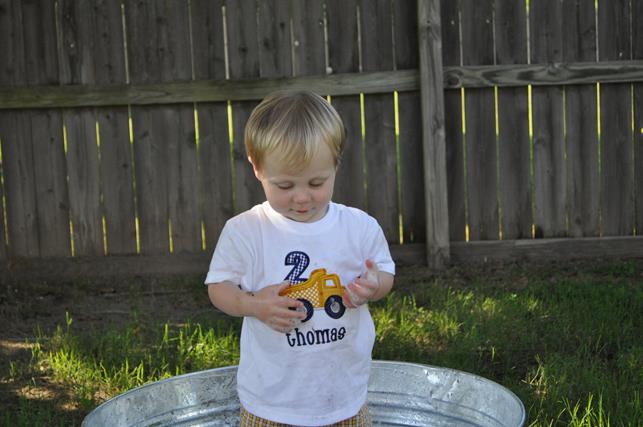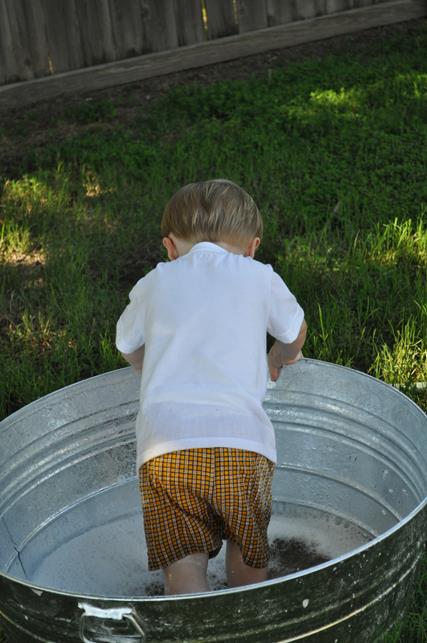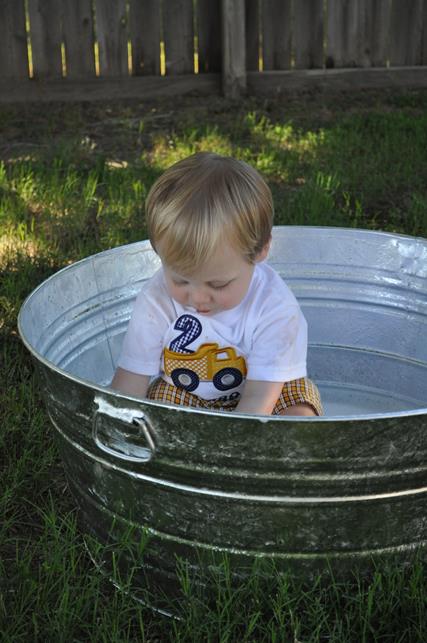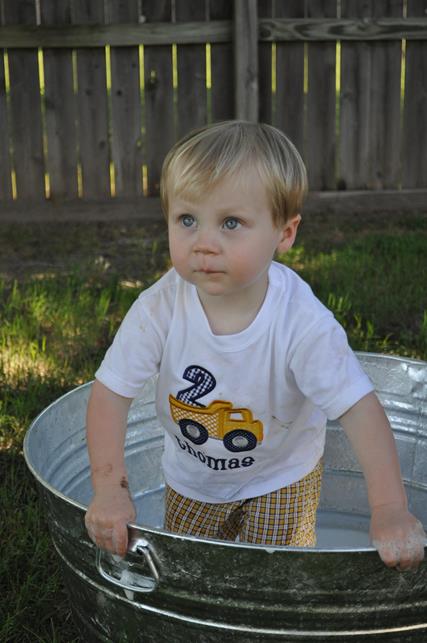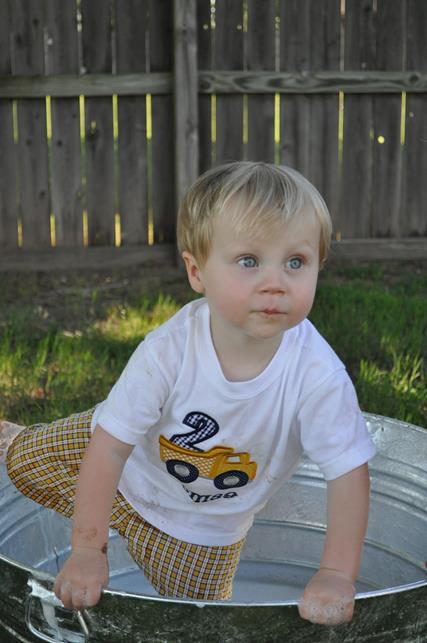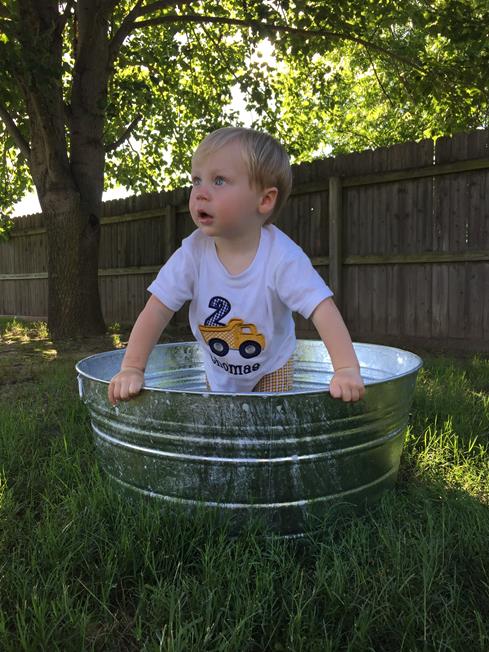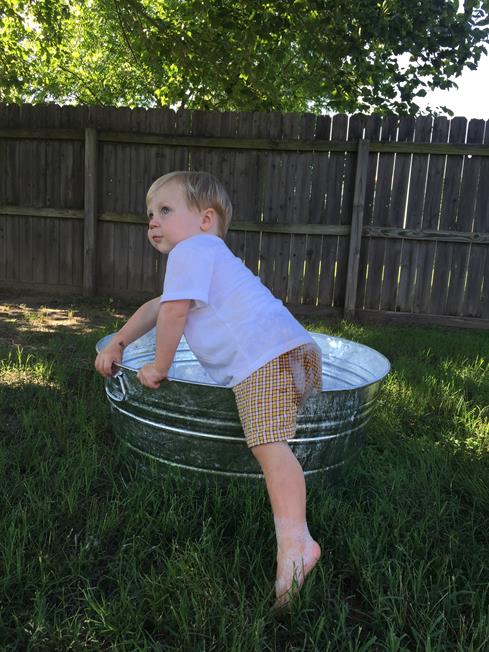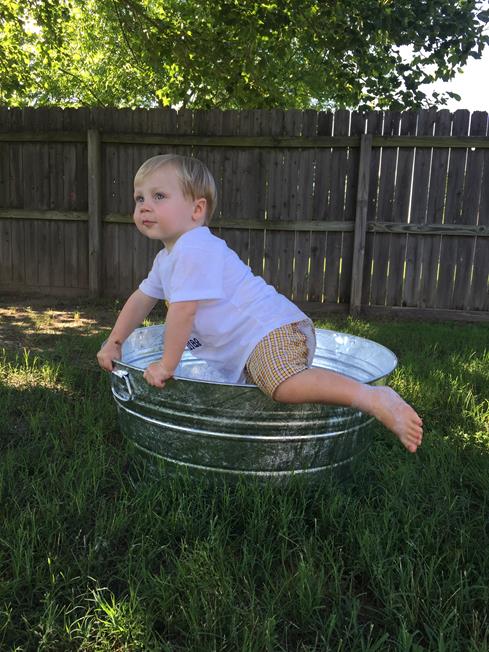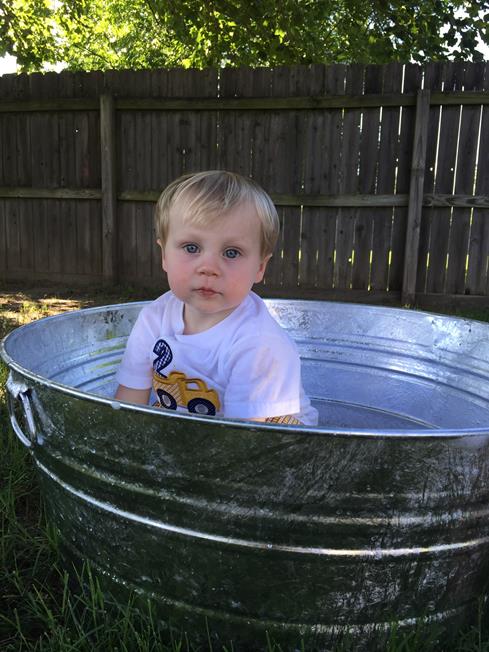 Eventually he found the hose and figured out how to use it.
The bigger kids wandered over to play...
...and for once in his life, little Thomas was in charge! He had the hose and could spray them any time they got too close to his water bucket. And oh, they squealed and ran! It was too funny and too much fun!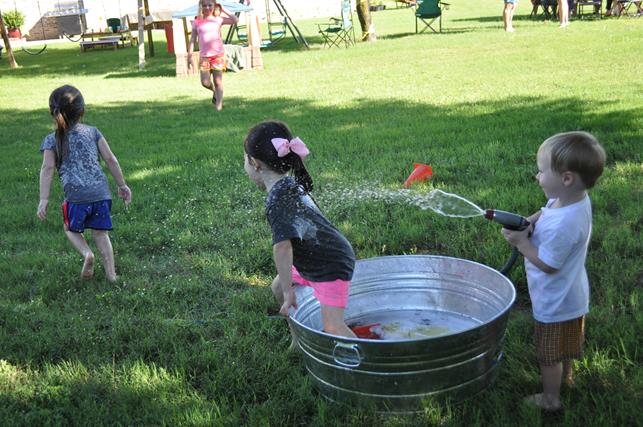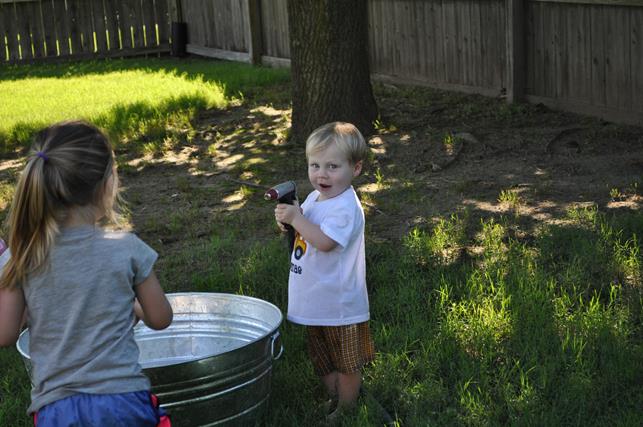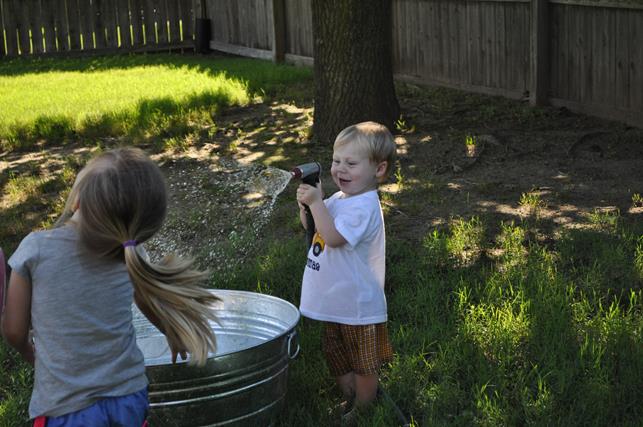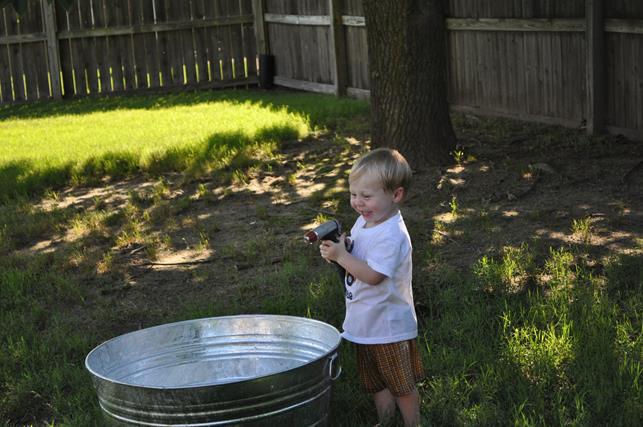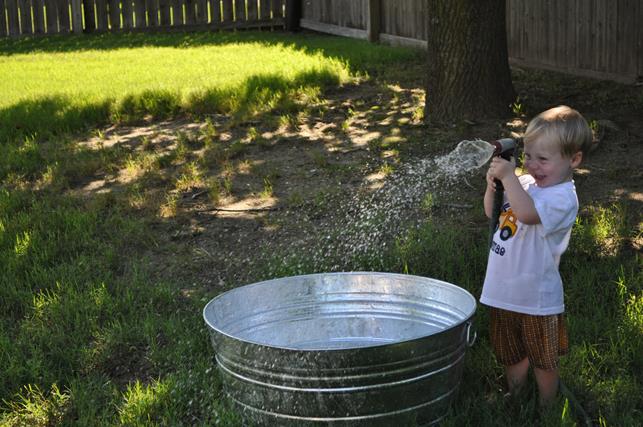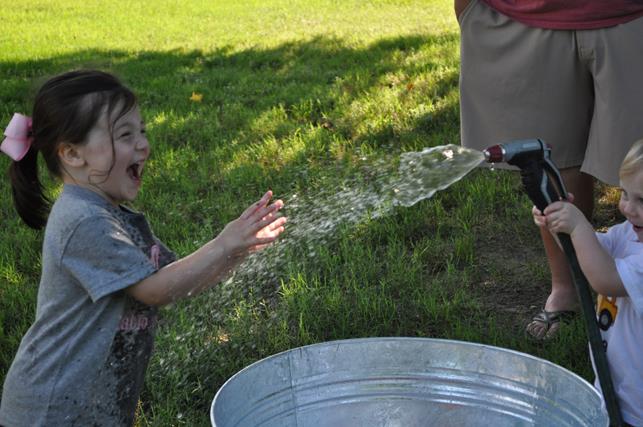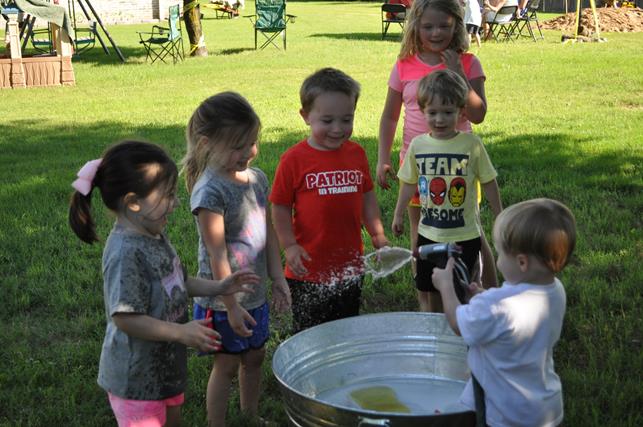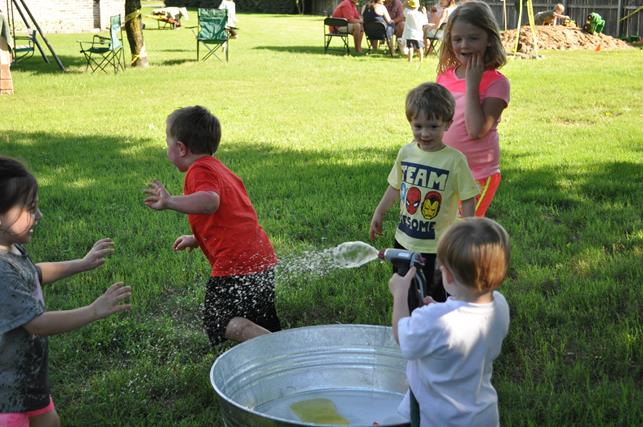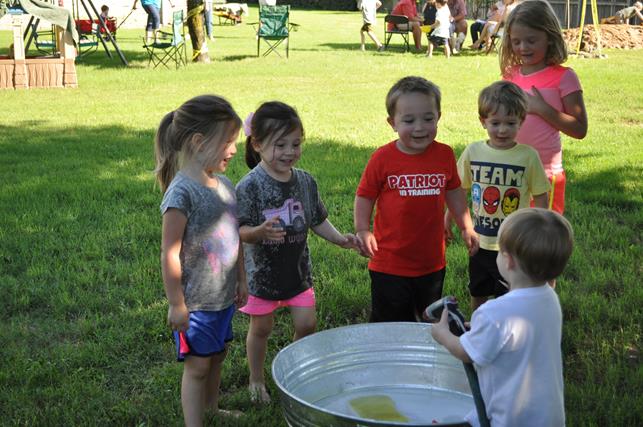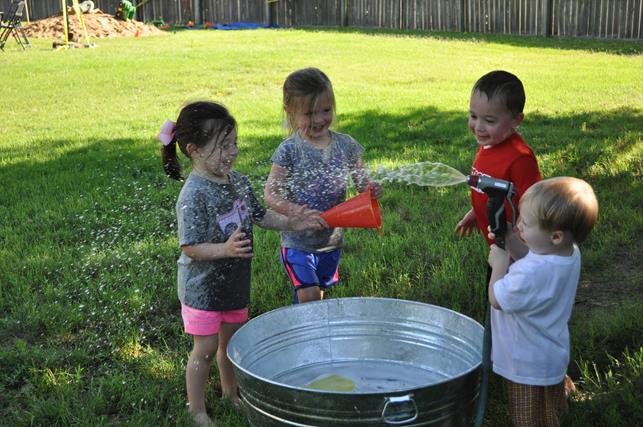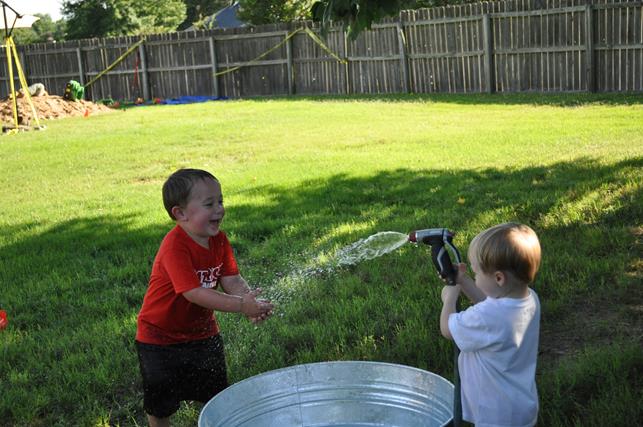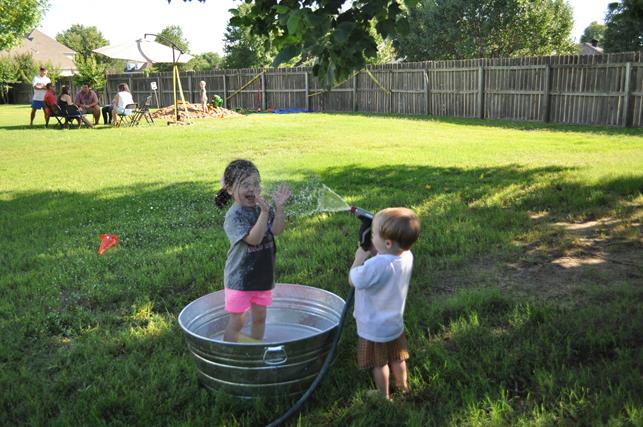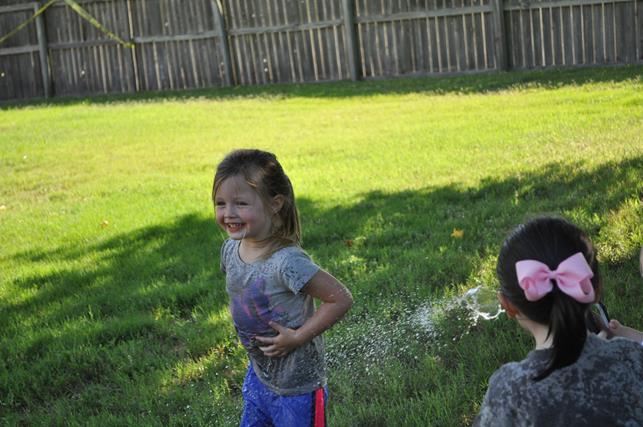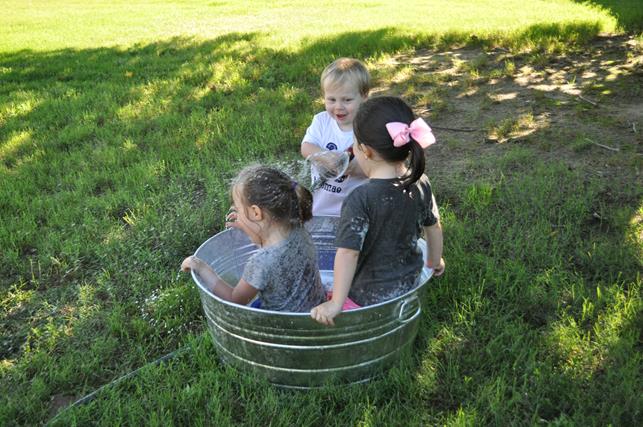 Consider yourself warned: steer clear of Thomas when he has a water hose!
By the time our guests left, the kids were soaked from head to toe. Better than covered in dirt, though, right? It was a good party and fun was had by all!