I have a yummy delicious cake to share with you - one that you absolutely should make because it is so delicious! The idea of it is really simple: buy these two items....
...mix the cake just like the box says, then stir in the can of frosting, bake and....voila! A yummy cake!
Or, in the case of my first two attempts, a colossal fail. But man, did I want to figure it out! Cause that cake up there? It might look atrocious, but it tastes soooo good! Like, so good that I ate about a third of that one out of the pan while making the next one. And then kinda felt like I was going to be sick from eating so much of it but it was so worth it.
Determined to make the delicious cake AND have it look decent, I did some googling to figure out my mistakes. Here's what I learned so that you can make a perfect one on the first try (and you really want to make this cake).
Duncan Hines calls this an Icing-in-the-Cake Cake for obvious reasons. Other sites, though, call it a Crawling Cake because, if not done properly, it will quite literally, crawl right out of your bundt pan and splatter all over your oven. (Ask me how I know...) (See photo above.)
Do NOT use a mixer for the cake mix. Apparently, this adds air to the batter and you don't want that.
Do NOT use the whole can of icing. Two-thirds of the can are all you really need, and the rest of the can is perfect to drizzle over the top at the end.
Do NOT open the oven while it's baking. You've never seen a cake deflate quite like this one can if you open the door! Just be patient and wait for the timer to go off.
So let me tell you about my successful cake, cause it was a hit. I used a Duncan Hines Butter Cake the first time (really the second time, but my real first time was a month or so earlier). When that flopped, I was nervous the butter had something to do with it (was it not room temperature enough?) so I went with just a yellow cake the next time. This worked well, but I do think the Butter Cake one tasted better so I might go back to it when I do it again. You choose for yourself.
Aside from the box of cake mix and can of icing, you also need 4 eggs, 1 cup of milk, and 3/4 cup of oil.
Since you aren't using a mixer, add the eggs to your bowl first and beat them by hand. Then add everything else except for the icing. Mix it by hand as well as you can. This won't be the prettiest cake mix ever. After mixing well, fold in the 2/3 of the can of icing. For comparison, below on the left is my first batter that I used my mixer on, and the other is the one I mixed by hand. The first one looks much fluffier and smoother and prettier, but don't be fooled - the flatter batter is better.
Before pouring it into your bundt pan, make sure you spray that bad boy down with so much Pam it's pooling up at the bottom. And then sprinkle on some flour. You don't want this deliciousness to stick to the pan.
Now, here is another important part: ignore the baking instructions on the box! Cook it at 350* for a minimum of ONE HOUR. I know the box says 35-40 minutes, but we don't care. The icing being added in means it needs to cook much longer. An hour will probably get it cooked but you may need to an a few extra minutes. Just remember the less you have to open that oven door, the better. Open it, stick in that toothpick, and close it back quickly! :)
If you need to hold your breath and say a little prayer before dumping it over, I understand. Let it cool in the pan for about ten minutes before attempting it, but if you greased and floured enough, it should come right out.
Now, you could stop there and it would be just fine, but why not take it up a notch? Take that third of a can of icing that you have left over, add just a little bit of milk to the can, and microwave it for a few seconds. Once you've got it thin enough, drizzle that yumminess over the top of your cake.
Fantastic! Now, once again, you could stop here and the friends you're sharing your cake with would be just fine. BUT, slicing that pretty cake and adding a scoop of vanilla ice cream and then drizzling it even more with caramel (oh my gah!) would have them singing your praises for days. Warning: you will become the official Birthday Cake Maker.
I made my caramel cake for one of my very favorite people in the whole world - my Mama - for her 65th birthday. My niece made sure she was properly accessorized with a crown and wand before she could blow out candles.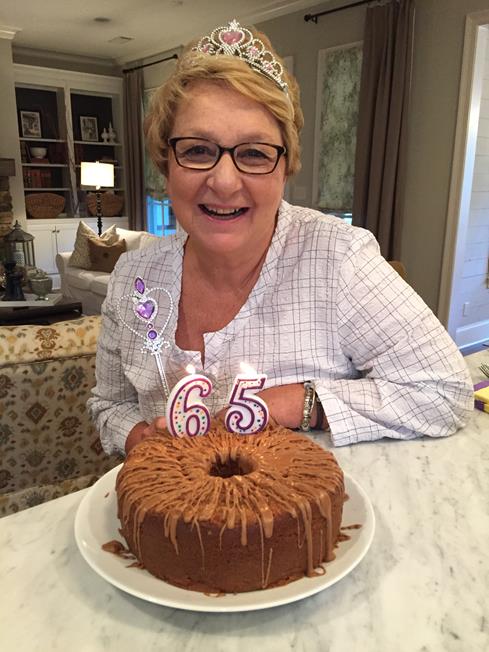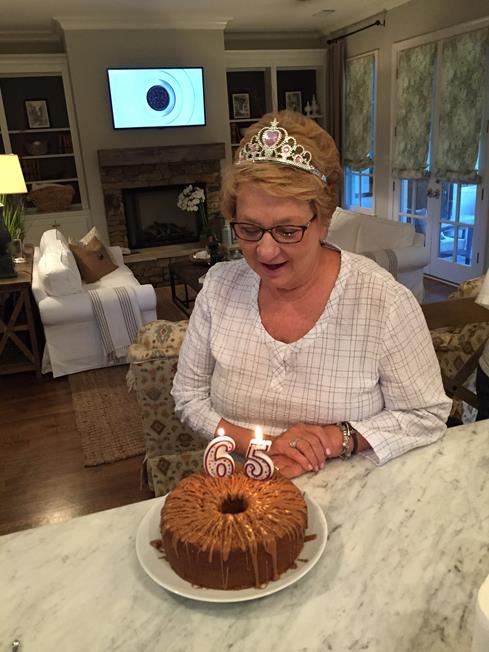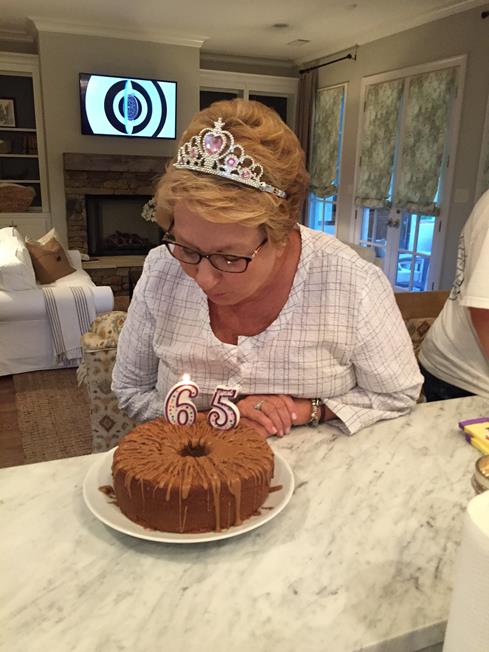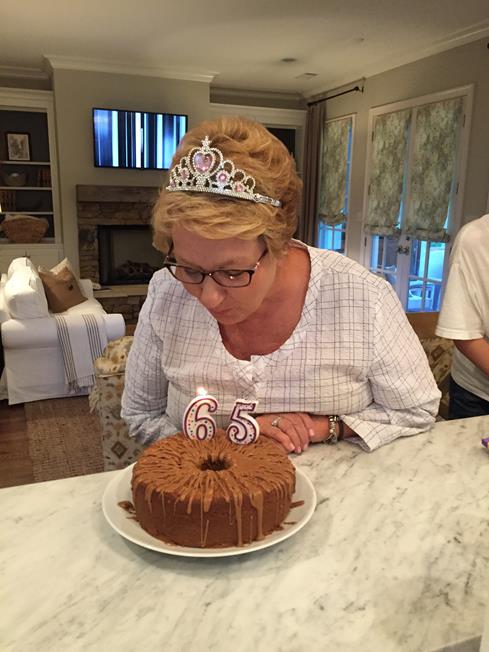 The super fun thing about this cake is that the flavor combinations are endless! I did yellow cake with caramel icing, but you could do lemon cake with lemon icing. Or spice cake with cream cheese icing, butter pecan with coconut, strawberry with strawberry. Oh, the possibilities! Let me know what combo you try! :)
And now, the super fun thing about this post is that I have a bonus recipe for you! This is so easy it can hardly be called a recipe, but it's so tasty and is another crowd-pleaser.
You need five things: apples (I used 3 or 4), snickers, cool whip, vanilla instant pudding, caramel sauce. I made a small batch so I only needed a small tub of cool whip and half-ish of the instant pudding package.
First, chop up your apples and snickers candy. Try not to eat too many.
Fold the dry vanilla pudding into your cool whip. I just did it to taste - add as little or as much as you like.
Now, from here you could just mix everything together, but I layered it up like a trifle. Looks prettier that way and I was taking it to some friends. :) Here's my first full layer: cool whip + pudding mix, then apples and snickers, topped with a drizzle of caramel.
Finish it off with one more layer of cool whip + pudding and a swirl of caramel. Stick it in the fridge to set up a little bit. Then enjoy!
It tastes kinda like a caramel apple coated in peanuts, but even better! I just had a bowl of some that I made two days ago and it was still delicious. So easy and a perfect cool treat for summer!