A couple weeks before Easter, I caught wind that one of the kids' old daycare teachers had a nest of bunnies and was "renting them out" for pictures. I couldn't get our photoshoot lined up fast enough! We talked up getting to see the baby rabbits for days beforehand and the kids were so excited. Guess which child was scared to death when the sweet, cuddly bunnies were placed on the blanket?
Yep, so scared she hid behind her little brother.
We took a little breather without the bunnies and their Daddy got them laughing. Those are the smiles we were hoping for!
When we brought the bunnies back, we corralled them in a basket. This helped Katie Wynn feel braver near them.
The sweetness! I was really impressed at how well Thomas did with them. He was not scared to touch or hold them at all.
Of course I love these sweet little grins. We had them push the bunnies' ears down to see if they would pop back up. Worked like a charm!
As all you mamas surely know, those sweet grins and gentle touches can only last so long. I guess every photoshoot has to come to an end at some point, and Thomas tackling Katie Wynn signaled the end of this one.
The weekend before Easter, Lala and Poppa came to town for a visit! We took some quick pictures after church with them and the kids because they aren't all together very often anymore.
I love this picture of Bill and Pat (on the left). And tell me Thomas's baby legs and that crossed foot isn't stealing the show over on the right. I'm going to miss seeing him in bubbles and knee socks. Why does he have to get big?!
Since Lala and Poppa wouldn't be here the next weekend for Easter, we pulled out some of the confetti eggs early to crack some good luck (and confetti) over their heads!
Katie Wynn had an Easter party at school and I was the room mom in charge of it. Matt helped with all the snacks and we decided it'd be easier to go ahead and bag them up for each child so we wouldn't have to divvy out each food in the classroom. In a last minute, use-what-you-have rush, we pulled off these cute bunny snack bags.
It was fun getting to be at school and watch Katie Wynn and her classmates. They hunted for eggs and then we cracked more confetti eggs. Many of the kids had never done them before so they were a big hit.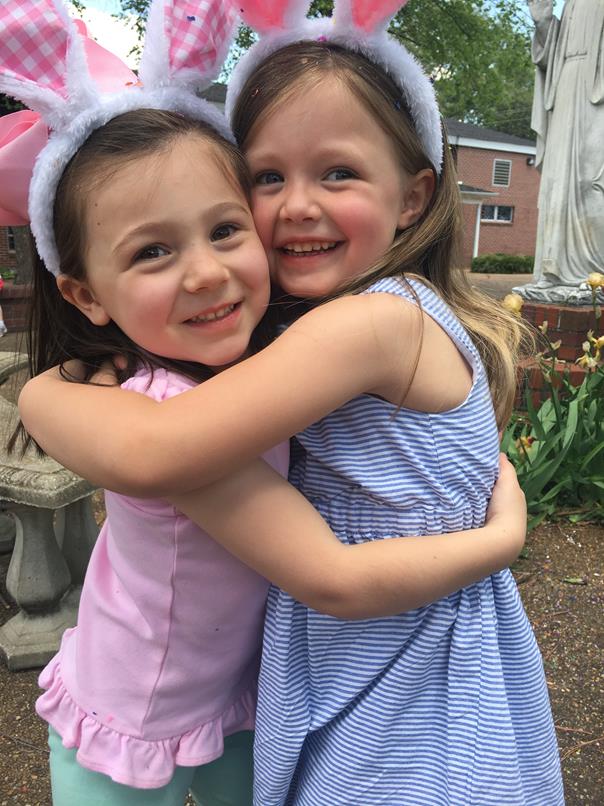 Finally, it was the day to celebrate Jesus's resurrection! My mom made the kids' Easter outfits for church and they looked absolutely precious in them. Matt warned me that it was probably Thomas's last year for a frou-frou outfit so I had to take extra pictures of him in it.
Another egg hunt at church during Sunday School and our two were the first out of the gate!
If you've read one of my Easter posts before then you know immediately following church, we head over to my parents' house for lunch. But first, we take pictures. No one, and I mean no one, is allowed to change clothes or even so much as loosen a tie or roll up sleeves before we take about 292 pictures. Every family, every couple, every set of kids, kids and grandparents, yadda yadda yadda. It's like torture for every kid and male in the family. Meanwhile, we hope that my Dad remembered to turn on the pre-set ovens before leaving church so that the food is cooking and almost ready. (He's only forgotten once.)
Lilli Greer is the baby of the family and poor thing just wasn't feeling pictures that day. Every kid gets a turn to boycott them and this was her year, I guess.
Charlie is probably my parents' favorite "kid." Look how well he smiled for their family picture. :)
Memaw with almost all of her great grandchildren.
After we've had lunch and the kids are good and hyped up on sugar from chocolate eggs and marshmallow bunnies, we have a big egg hunt. I always love this. My parents spend the night before stuffing around 200 eggs with goodies and us parents get to hide them. Now that some of the kids are getting big, Mom has had to start putting tickets in the eggs for bigger prizes. They are no longer amused with stickers and erasers.
Is there anything more fun than dumping out your basket and going through all the loot you just scored?
Just when everyone's winding down and starting to get tired and thinking about maybe chilling out for a while, you know what happens, right? Aunt Laura breaks out the 6 dozen confetti eggs! And man, this year, it got dirty. People went down. No one was off limits. Not even Memaw. Because nothing says Christ is Risen quite like shoving a cracked confetti egg down the back of a family member's shirt.
Look at all my favorite Mint Tulip models playing on the playset! That's a cute nest of bunnies right there.
Easter is my favorite holiday. There are so many parts to enjoy! I love the church service; I love the reason we celebrate; I love the pretty outfits; I love the yummy food; I love the egg hunt and the confetti fight. And also? I love the nap at the end of the afternoon. When everyone in the house konks out, that's when you know it's been a really good day.