Halloween was on a Monday this year, which means it lasted FOREVER. We had approximately 28 opportunities to wear costumes and candy was just thrown at us for days....everything from a costume party to a parade to trunk or treat to a carnival. Plus trick-or-treating on the day of. Thomas only wore his costume for about 6 minutes while screaming his head off, but at least we got a picture.
This year's family-themed costumes came from Katie Wynn's announcement that she was going to be a shark. Why? Who the heck knows. She decided it a few weeks out and held to it, so a shark costume is what I bought. Thomas loves Finding Nemo so an orange blowfish was perfect to go with her shark get up, right? He hated it. Matt and I threw on some fishermen accessories and called it a day.
Let's rewind a couple of days. To kick off the Halloween weekend, we carved a couple pumpkins. While wearing matching outfits 'cause that's how we roll.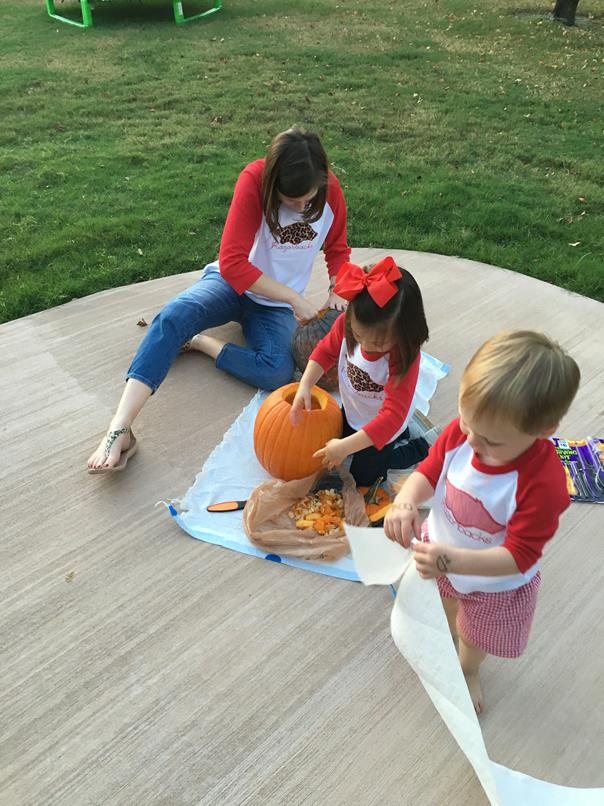 One of the pumpkins we carved was one that had been painted a few weeks earlier. Four 4-year-olds went to town on it with some paint and just mixed all the colors together. So it's not actually rotten, it just has gross paint all over it.
We attended a spaghetti supper and carnival at Katie Wynn's school. While Matt served spaghetti, the kids and I went to play games. Except they were being way too shy to play any games. All they did was ride on these little scooters over in an empty corner. If you can't tell from their outfits, it was really warm for Halloween this year.
The next day was our neighborhood's parade. Thomas was still napping when it started so I sent the shark and her fisherman to the float without us.
Thomas woke up in time for us to stand and watch the parade go by and we were literally pelted by handfuls candy. We collected so much candy we didn't have to buy any for trick-or-treaters!
We decorated our car for trunk or treat at church that night. I hate that I didn't get any pictures because Matt made a cute ring toss for the kids to play to win candy.
Before we left to go trick-or-treating the next night, my sweet boy posed with our carved pumpkins on our front porch. Isn't he the cutest?
Since we were going to be out doing our own candy collecting, we were that house with a bowl of it sitting out for the taking. Surprisingly, not much of it was gone when we returned!
We met up with our group of friends over at the Schwartz's house to eat dinner before loading up in the trailer. Katie Wynn the shark and Addi Clare, aka Bat Girl, were ready to go!
Our trick-or-treat group also included Levi as Jake the Pirate, Mason as the conductor for the Polar Express, and baby William as the cutest gumball machine I ever did see.
Our neighborhood is huge but the houses are kinda far apart for little legs. It's always bumper-to-bumper trailers and four wheelers and golf carts full of kids in costumes, and it's so much fun!
We made a stop at our own house (to refill the cooler, ha!) and Matt took pictures of the kids getting their candy. It was fun to get to see them use our new front walk!
We all had so much fun that night but by the end of it, I was SO ready for Halloween to be over. But, since Katie Wynn attends a Catholic school, her fall party wasn't until the next day and she had to dress up as a saint for All Saints Day! Gah! We chose Saint Laura who, according to the worksheet KW brought home, was the Saint of Victory or something like that. Katie Wynn wore her Olympics shirt from her party with a couple gold medals and boom! Done.
That night we all crashed into a sugar coma from all the candy consumed and said goodbye to Halloween 2016!