Flipping back through pictures, we had a lot of fun in October! It's one of my very favorite months - the weather is usually so nice, I can officially start dressing my kids in pumpkin clothing, and there are so many fun fall activities.
Early in the month, we invited some friends over to paint pumpkins with us. It was a rainy day so we had to do it on our front porch - the driest outside area at our house.
This is exactly how I pictured our bar when we purchased the house - full of kids eating and laughing together!
Since Katie Wynn's birthday is at the end of September, we had some new toys to play with during October. One of them was a new water table for our patio. They love playing with it!
Sitting in the water table and spitting on your sibling are not necessarily encouraged, but they happen.
Speaking of birthday presents, Matt's mom made Katie Wynn the most awesome mermaid tail blanket I've ever seen! The details are amazing!
I'm lucky that Katie Wynn lets me wear the mermaid tail sometimes. :)
Speaking of Lala (Matt's mom), she has a birthday during October so we spent a Sunday morning making her birthday cards. I love the watercolor artwork the kids did!
Katie Wynn's card reads: "Poppa, Lala - I love you - Jesus - scribble/drawing - Katie Wynn." I helped Thomas sign his name on his card. :)
During October, Matt's grandfather moved out of his apartment and into Matt's aunt's house. We sent him a card too the week that he moved. Katie Wynn told me exactly what to write, and I wrote it lightly in pencil for her to trace.
One Saturday we had not one but TWO birthday parties at inflatable bounce house places. That's a good way to wear everyone - especially Daddy - out! Both parties started with him having to carry them up the slides and go with them, but they both got brave enough to do it themselves too. Scroll through the pictures below. Look closely, one of Thomas's trips down the slide was with Poppy!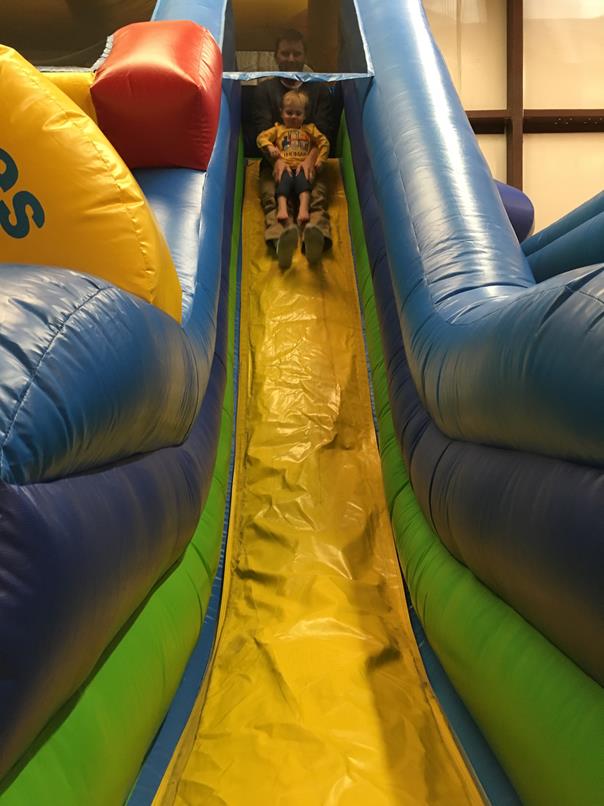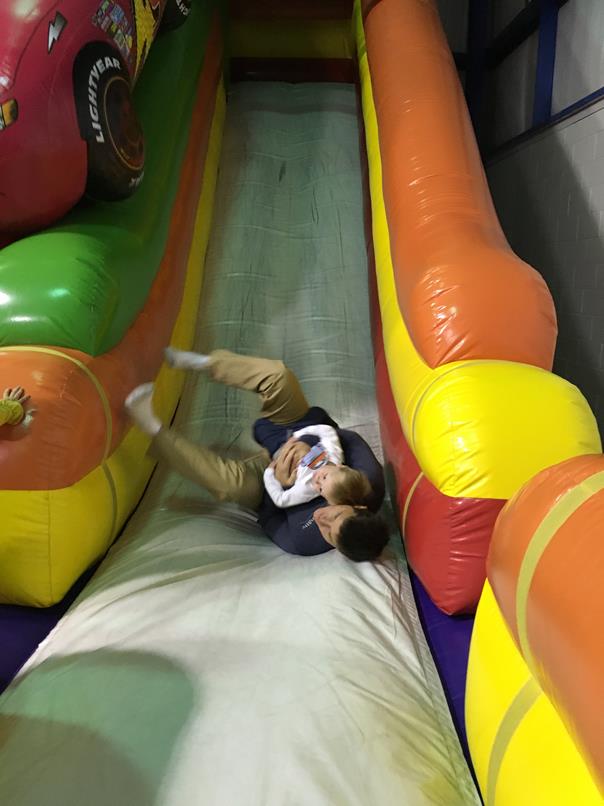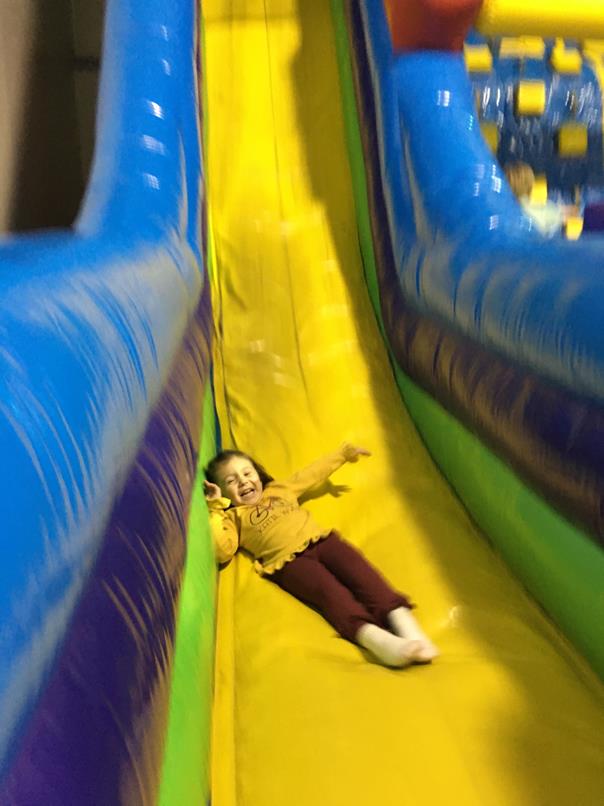 Thomas's love for women's shoes is still going strong. Mine usually get stolen every evening.
We had our first "family project" for school due this month. We had to decorate a scarecrow together using stuff around the house. We covered ours in paper and a cut up sock and added buttons and fabric patches. Katie Wynn named him Beebo and was proud to take him to school with her.
In the middle of the month, I took Katie Wynn to get her hair cut off. It was the worst hair cut I've ever seen! One side was a solid inch and half longer than the other. Seriously, other people noticed it and mentioned it. I trimmed on it for three nights in a row trying to get it evened up. It could still use some shaping up but it's decent now.
She also had spirit week during October and got to wear some fun outfits to school. For Monday's Crazy Sock Day, she and her best friend Addi Clare shared two pairs of socks.
Wednesday was Tie Dye Day and I scrambled to make her a shirt on Sunday since we didn't own anything tie-dyed. Thursday was T-Shirt and Jeans Day and officially the first time for her to wear real jeans.
Friday was Team Spirit Day and I decided to participate too so we could be twinkies. :)
During October, Thomas discovered Katie Wynn's pink leopard print leotard, and it has become his very favorite thing to put on. He loves rubbing his belly while he has on the slick spandex material.
With all our busy-ness, we managed to squeeze in an ice cream date and an afternoon at the playground.
They ate bananas like the monkeys they are, and KW cuddled up with her cousin Jett to watch YouTube videos.
I'll wrap this post up with the pumpkin clothing I mentioned at the very beginning. I love fall clothes!
Actually I'll wrap it up for real with this last grainy, blurry picture that was so cute in real life. My mom plays the piano during our church services and one Sunday the sweetest little boy sat with her for the closing song. He was so still and quiet sitting up there with her!