Well, with all the Christmas photos taken out, all that's left for December Phone Pics is mostly pictures of my kids in Christmas clothes or new clothes they received for Christmas. :)
Like these precious ones of Thomas in his JOY reindeer shirt. He is so stinkin' cute sometimes!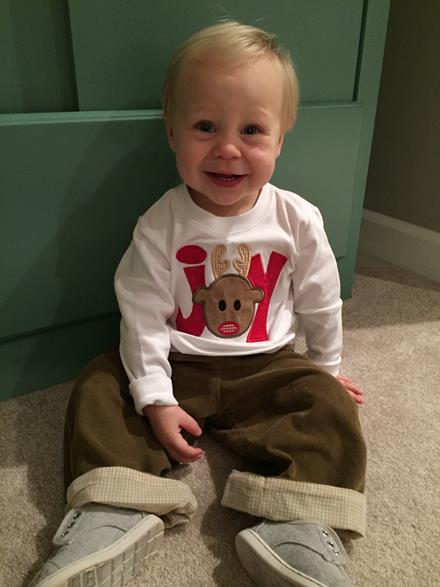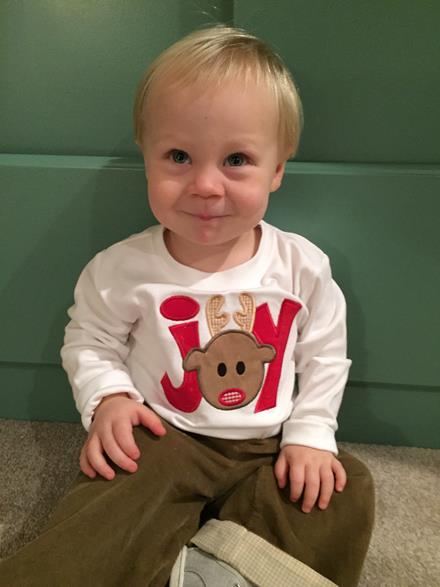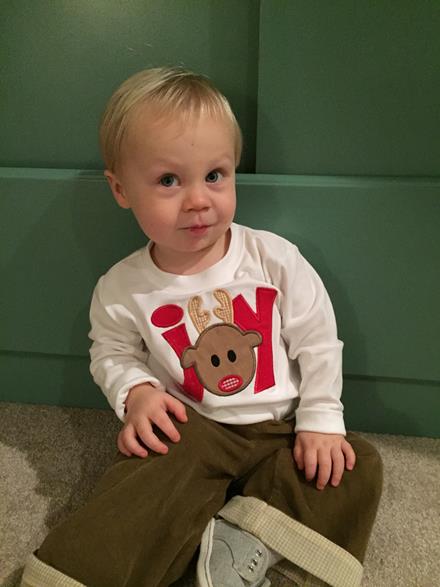 Just click over on the right of that carousel of pictures for more to slide in. I love that Lolli's kiss was perfectly time with the click of my camera. :)
Now you know I took a picture of them pretty much every time they had on Christmas clothes, so here are a handful of my favorite ones. Most of these were taken in the morning before school.
December was the month Katie Wynn started making pillow "houses" to sleep in for nap time. As I type this, she's on her bed in another pillow house. Naps take a little longer these day since we have to set everything up. This one pictured is not very elaborate, but sometimes they are!
For Thomas, December was the month he started experimenting with makeup. MY makeup. Little stinker; it's nearly impossible for me to get ready when he's around because he steals all of my stuff. Look how proud he is of himself for his eye shadow application!
When he wasn't in my makeup, he was applying powdered donut "lipstick."
He cleans up pretty well, though, even when he's drooling.
This year was our first time to attend our town's Christmas parade. It was a really fun night, although the horn from one of the big trucks scared Thomas to death!
We also went with several friends to Snowy Nights at the Botanic Gardens for the first time ever. Can you see the snow behind Matt and Katie Wynn?
It was really cold that night so we didn't last very long!
Our friends Sarah and Gus came over that night and Katie Wynn got to have her first friend sleepover! But first, we had some hot chocolate with whipped topping - a first for Katie Wynn and she wasn't so sure about it.
We were excited to finally use the trundle under Katie Wynn's big girl bed. As I pulled it out to get it ready for Gus, KW decided she would be sleeping on it too. Doesn't this picture of them look like it should be on some marriage self help book titled something like Marital Sleep: What The Stuffed Animal You're Hugging Says About Your Relationship??
I had the covers of her bed pulled down too, fully expecting to have to put her up in it if they didn't settle down. But, they both fell right to sleep! When I checked on them later she had her arm draped over him. Too sweet not to snap a picture!
With it being too cold to play outside after school, we had to get creative to keep them entertained until bedtime. We did everything from running errands, riding around looking at Christmas lights, and trying to watch movies. One night, we had a picnic in our living room!
I showed you in the October phone pics that one of Thomas's favorite hang out spots is in Lolli's kennel. In December, Sister joined him in there. She crawled in ahead of him one morning and asked if I'd close the door. Then she said, and I quote, "Mama, can we stay in here for a little while?" Yes ma'am, you can! Stay as long as you'd like! They can't call the child welfare office on us if they asked to be caged, right?
So we went about our day while they played in their new house and then let them out when they were ready...and whole minute and a half later...
We got to open presents from Matt's parents on the morning of Christmas Eve since they had brought them to our house earlier in the month. It was nice to spread all the gifts out some so the kids could really see what they got from them.
Thomas got a new car!
Katie Wynn got a new easel with lots of paint, chalk, and marker supplies!
Thomas also got some new building blocks. This cool wagon that they came in can pick them up when rolled over them. I'm all about a toy that picks up after itself!
They both got new coats. And also rainboots, though I don't have a picture of Thomas in his yet.
I think this picture was taken on Christmas night...Katie Wynn enjoys Thomas's new car too. I love their teamwork.
Katie Wynn got a new table top high chair from one of her buddies so Bitty Baby now has a permanent seat at the kids' table in our kitchen.
She also got some new finger paints so we've gotten to get creative several times. The picture on the right is of the Christmas trees we painted together. We went step by step...can you tell which one is mine and which one is hers?
We set up Katie Wynn's new washer and dryer set outside our laundry room so she can do laundry while I do. Somehow most of my clean clothes end up going over to her set and, eventually, scattered all over the floor, so I'm not sure that her set is really helping keep clothes clean yet.
If you've been to our house before, you know we have a large set of stairs in our kitchen. We've had a baby gate on them since Katie Wynn started crawling and at the time of installation, I was pretty sad about the eye sore but knew it was necessary. It didn't take long before the gate just became another part of our house and I didn't even notice it anymore. A few months ago, the kids figured out that they could get around the gate by squeezing through the last set of stair spindles that was just slightly wider than the others. Took us by surprise the first time we saw them on the other side of the gate but it didn't take long for us to catch them in the action of getting back there. The problem was that then they couldn't get out. We'd open the gate to let them out but then they'd crawl right back through and get stuck again! It was kinda like being at the zoo when they were behind bars...
Below, they were stalling for nap time so they squeezed through the spindles and said they were laying in their "beds" and that they were going to nap there. And by "they" I mean Katie Wynn because she's the boss and tells Thomas what to do.
So that was a long story to tell you that when we took the gate down to haul the Christmas tree and decorations back up to the attic, we didn't put it back up. What's the point when they could get past it?
The stairs are now their favorite place to play. Matt put down some green tape on the fourth step and they know they're not supposed to go past it (though we have to remind them almost daily). In the picture below, they've got all of the food from their pantry displayed in their "store." The stairs have also been a dance stage and just today they were a bus that we all had to ride on (Daddy was the bus driver).
Here are just a few last pictures of each of the kids to wrap things up. My girl is getting to be way too grown up!
And Thomas...sleeping soundly like my sweet baby, wearing new clothes, and then dressed like he's headed off to college!
And here's the silly boy wearing his rosary beads and "hiding" in the pantry.
December was a fun but incredibly busy month. I enjoyed celebrating the holidays with the kids and getting to see their faces light up, but if I'm being honest, I was really glad to return to a our regularly scheduled programming!