I couldn't think of a good material gift for my Dad or Matt for Father's Day last June, so I decided to give them an adventure instead. And they can't go on adventure without me and Mom tagging along, right?! For their gift, I gave them each a gift certificate to Go Ape! that was enough to cover two tickets - one for each of them and one for their spouse. :)
Go Ape!, for those of you that are unaware, is a zip-line and treetop adventure. And, lucky for us, a new course opened up fairly close to us within the last year. (Visit that link to watch a video of the course highlights!) I think both Dad and Matt were excited after I showed them the video of what we would be doing!
Due to summer vacations and the extreme heat, we put our adventure off for a few months. I finally made us reservations in October and we ended up having the perfect weather for it! It was nice and cool under the trees which was good because I think we all broke a good sweat along the course. Our adventure took place on a Friday afternoon so that A) it would be less crowded than a weekend and B) our kids would be at daycare. We had the 2:00 slot in the afternoon and, since the 3:00 group was a no-show, were the last group going through the course. That meant we had no one behind us to make us feel rushed. It was so much fun!
Happy Father's Day, boys!
Before we started, wondering if we would survive.
Before you are turned loose on the course (that's right, no guide stays with you!), your appointed instructor goes through all the safety procedures with you and how to clip in and out of all the obstacles. There is a small, low-to-the-ground course that you do with the instructor to make sure you've got it all down pat. I won't tell you which one of us got injured on the safety course. (Ahem, Dad.)
Ready to head off on our own!
This particular Go Ape! course is divided up into six different sessions, the first of which is the training course. Each course ends with a zipline to the ground so that's how you come down from the trees. Each course starts with a ladder that you have to climb up. If I'm being honest, I think that was the hardest part! The pulley that you're clipped into pulls against you so you really have to pull yourself up each rung of the rope ladder. (Mom is climbing up said ladder in the photo below.)
They don't encourage carrying much with you on the course, but Matt and I both had zippered pockets so we could carry our phones for pictures and videos.
There is a three person maximum on each of the platforms between obstacles, so we had to stay a little spread out. The second obstacle of the first real section is a tarzan swing - they don't waste any time making you face your fears! We took videos here so I don't have good pictures of it, but can you see me standing on the platform holding on to a rope? Yep, I was trying to work up the courage to just step off the platform. After you do, you swing into a rope net that you have to catch and then climb up to the next platform. Mom was making fun of me until it was her turn to go - she pretty much had to sit down and slide off!
After the tarzan, this next upward climb felt easy!
Well, maybe it wasn't easy for everyone...
(Actually I think that's how my Dad feels about me always taking pictures.)
Matt was the first to zip off at our first zip line! Each of the five big zip lines take you over water and it was actually really peaceful being out over it by yourself...you know, for about 28 seconds.
Of course, the worst part about finishing the zip line is that then you have to climb up that dang rope ladder again!
Here are pictures from the next section on the course.
Halfway through and still upright!
On the third section, after we made it over to one tree platform, we had to climb up a tree ladder to get to an even higher platform. Matt and I went up first with no problems. My mom was behind me (with Dad behind her) and could not get past the first couple of rungs. She kept saying the pulley was stuck and that it wouldn't let her climb up. I think my Dad loved being the one to point out to her that instead of clipping herself into the pulley, she had attached herself to the bottom rung of the ladder. No wonder she couldn't move! :)
Each course section was a little bit more difficult than the prior one. The last three sections all split into two different routes - an easier route and a harder one. Matt and I both opted for the harder route while Mom took the easier one. The first section of the harder course had rope nets hanging that you had to climb across and transfer back and forth between. It was not as easy as Matt's making it look in the picture below!
And then, even after watching both of us break a sweat, Dad chose the harder route too. Y'all, I nearly lost it I was laughing so hard. I'm not sure how long Dad hung out on the first rope net just swinging back and forth trying to regain his balance, but it was a lot longer than either of us! I took a video but am having a hard time loading it, so enjoy this gallery of photos of Dad making his way across. (Click the arrows to change the pictures!)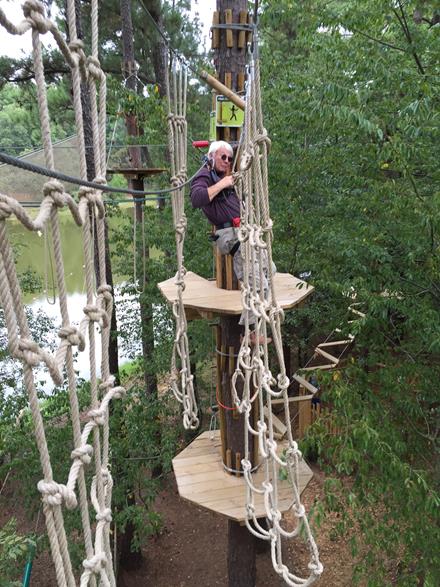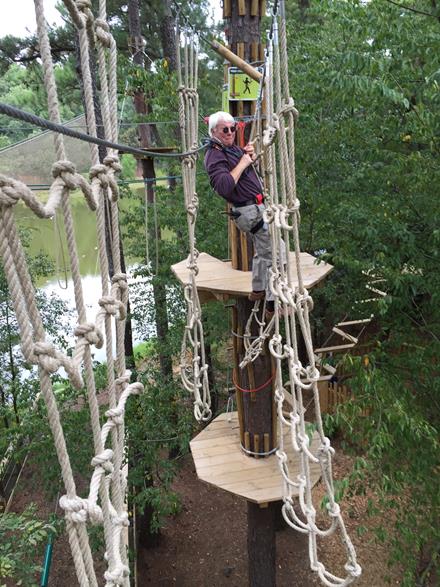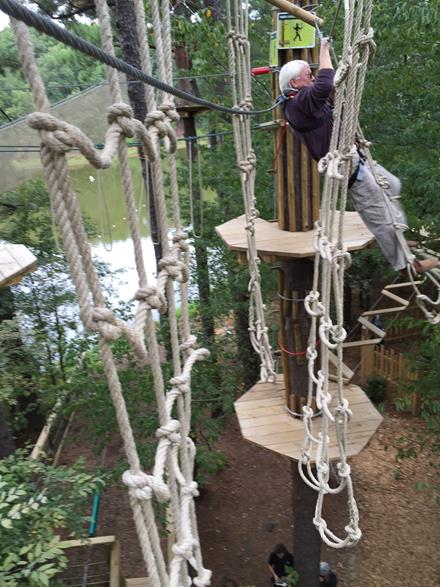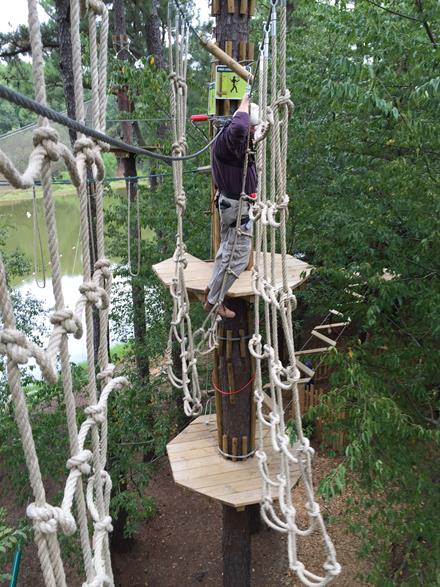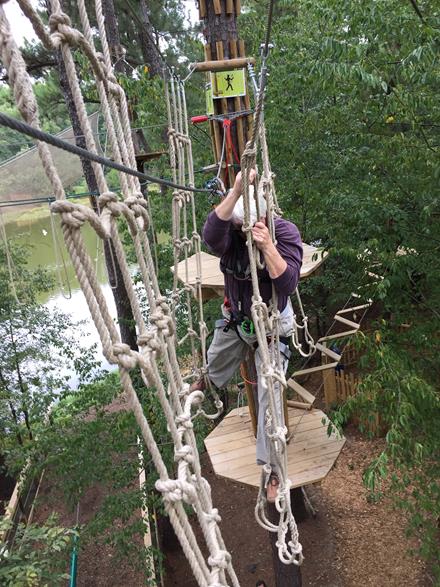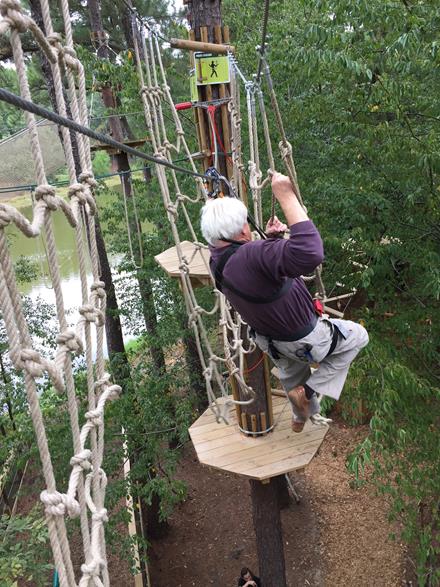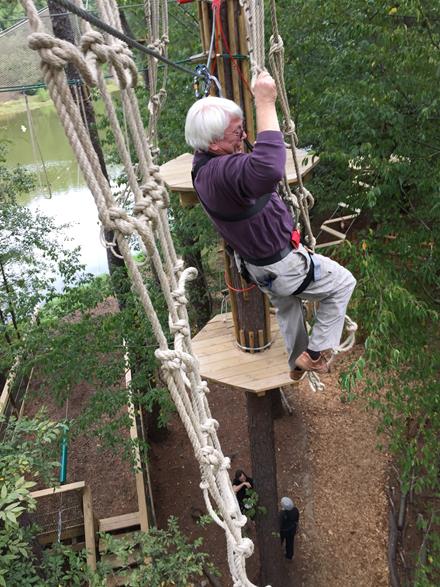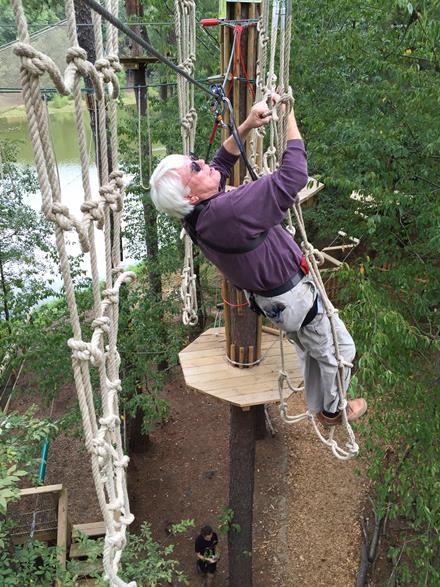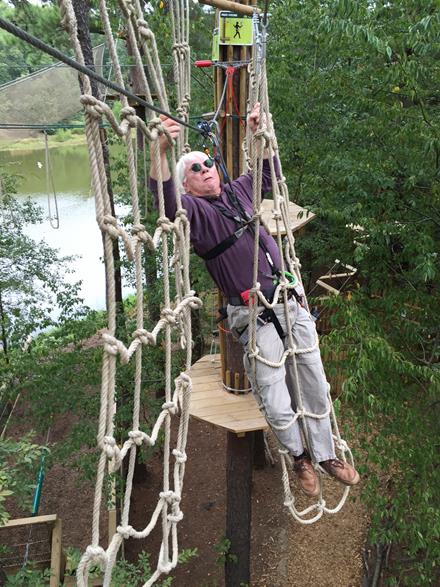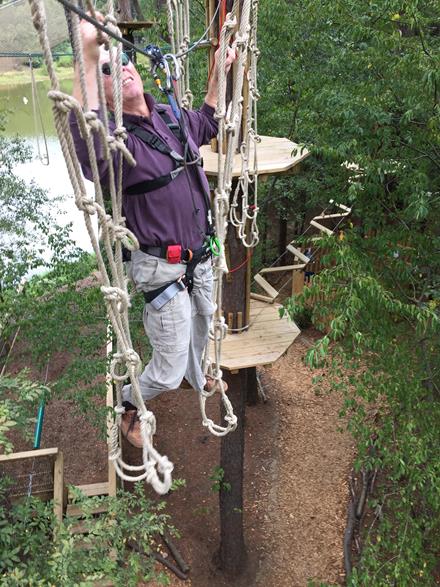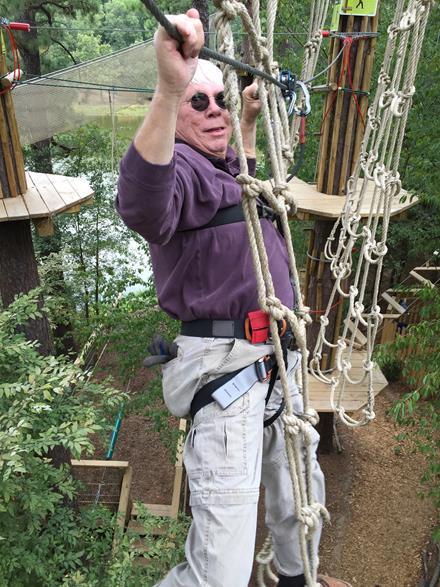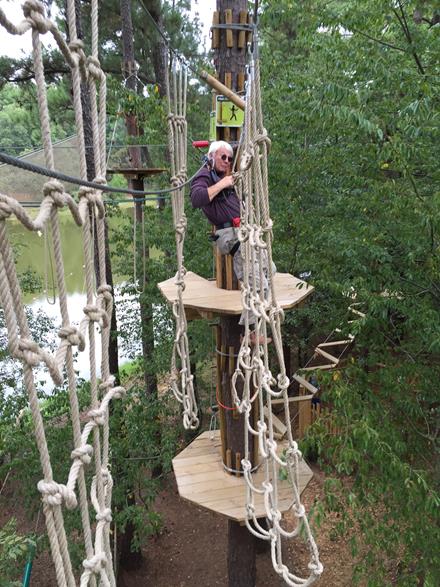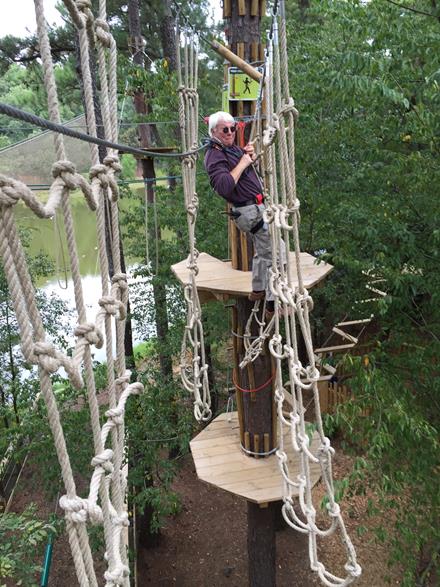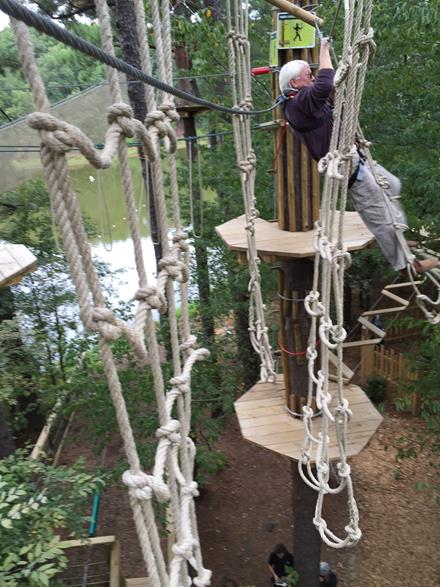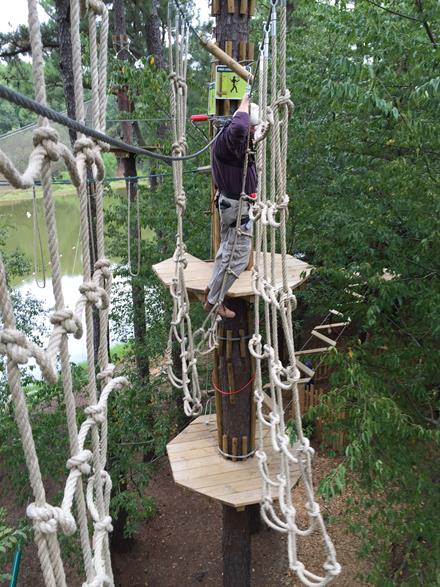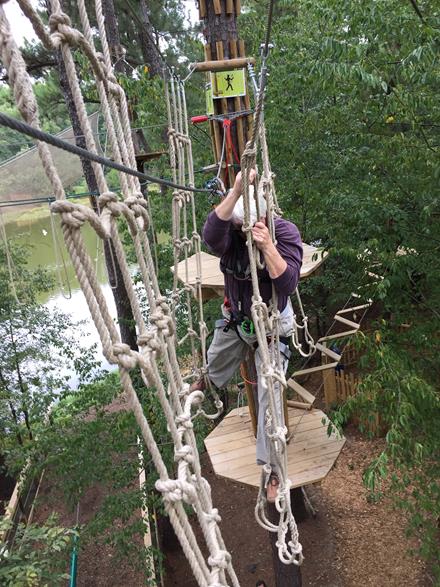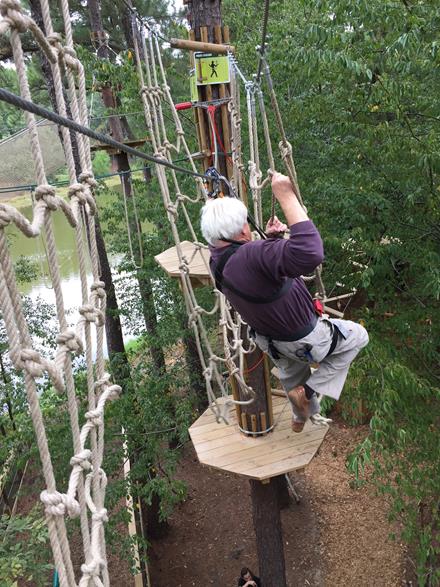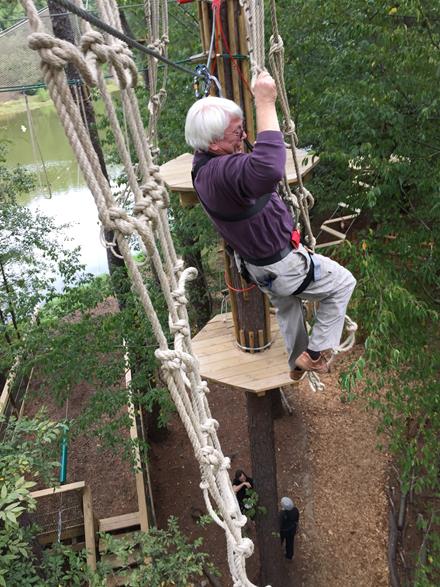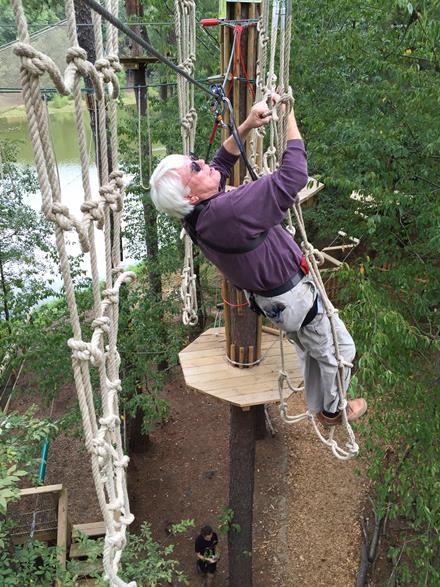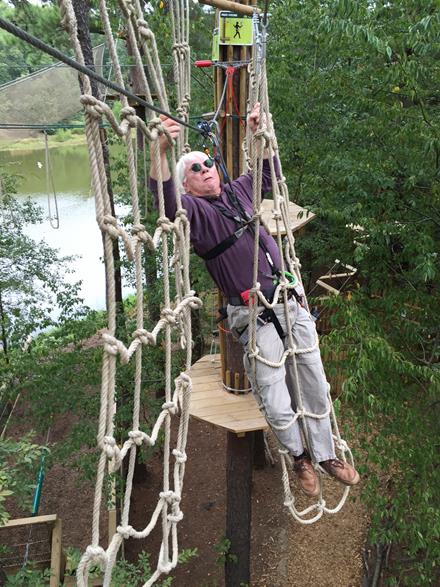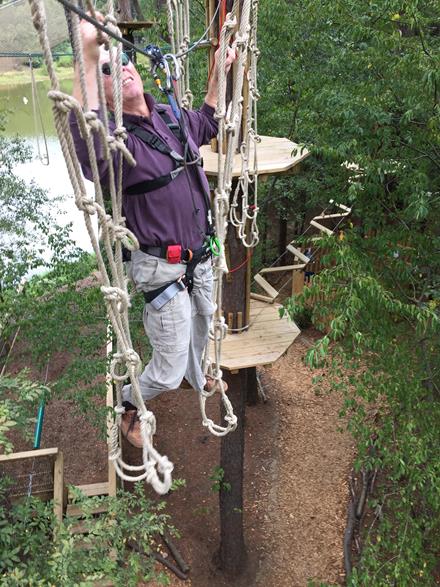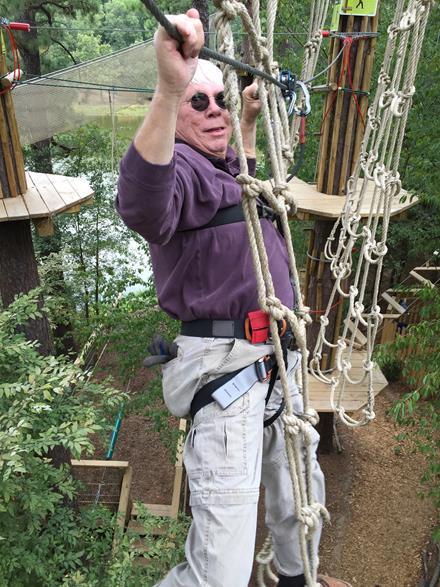 Mom had no problem laughing at him from her easy route.
The next section of the harder route was dangling rings that we had to use as steps. We gave Dad some pointers to make it an easier crossing for him. :)
After that, the two routes came back together so we could finish the section on the same obstacles. Matt was able to let go of the cables for a picture - something that's harder than you'd think while swinging up in the air!
One thing we decided to do before we even started was to take turns being the leader. That meant that no one was always bringing up the rear and no one was always having to be the guinea pig for each obstacle. It was Mom's turn to go first through this net tunnel and she went on her hands and knees. Dad went next and slid through on his back. Matt and I followed Dad's lead but, oddly enough, I thought this was kind of a hard one! The net did not stay taut with your body weight in it.
The fifth section started out with a twisted ladder, which you can see Mom completing in the picture below on the left. Then we had to do a little tight rope walking.
This section of the course split into hard and easy routes too. These were our options:
I was leading and chose the hard route on the right. It was definitely the hardest part for me! Matt didn't think it was that hard. I think my problem was my shoes - the soles were very flexible so they wrapped around those little poles of wood instead of giving me a good base to stand on, if that makes sense. I really had to use my arms to hold myself up!
The section ended with a swinging log to walk across and a crash landing off the zip line by Dad.
I didn't take many pictures on the last section because we were trying to finish up. It was nearing 5:00 and we had to get back to pick up our babies! (It took us over 2 hours to complete the course, but it could be done faster.)
One of the very last obstacles was the big Tarzan swing and it was the most terrifying and most exhilarating part of the whole thing! I was terrified doing it but now that I've done it once, I can't wait to do it again. Mom and Dad didn't do it so they watched me and Matt from the safety of their platform.
See Matt standing up high in the tree? He just has to step off. And then there's a good five second free fall before the tension in your cable catches you. So scary! So fun! I think a profanity may have slipped out of my mouth. You eventually bounce into a big net that you have to climb up. Oh man, it was so cool.
That's where I stopped taking pictures. From there we had one more zip line across the lake before we had successfully completed the course. And surprisingly, we were all able to walk correctly once our feet hit the ground! None of us were as sore the next day as we anticipated being. I can't wait for us to do it again - this might just become every Father's Day gift from here on out. :) I hope all of you locals give it a try - it would be such a fun day date without kids! (Children over 10 can participate.) Let me know if you have questions about it - I tried to be pretty thorough!