A few Saturdays ago, we had an evening photo shoot of Katie Wynn with a local photographer. I had actually scheduled this shoot so we could get some full-family photos, only to realize the day before that we had our weekends backwards and weren't going to have the big kids with us after all. So the photographer focused on Katie Wynn and we'll schedule some more full-family ones later. All of these pictures are courtesy of Kasey Mcalpin Photography. I have resized them for the blog so if they aren't showing up perfectly crisp, that's why.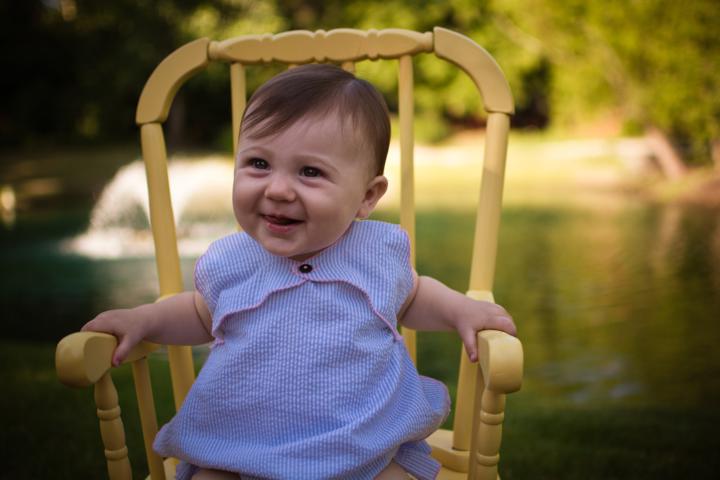 Kasey just plopped this yellow chair down right outside where we'd parked our cars, and Katie Wynn went straight to posing and smiling.
I love this one of her on the gravel road.
We are pretty smitten with this little girl.
Kasey was sweet enough to let us do a few outfit changes while we were there so all the pictures didn't look exactly the same. Sitting KW in front of these pink flowers was a good idea...I love how they look in the background!
You can see her two little teeth in this one! (She's totally cracking up at her Daddy.)
Oh man, I love this one too. Kasey got so many great shots!
I think I'll get this one framed for my desk. :)
I can't believe Kasey got this shot below. As soon as I put KW down, she pretty much immediately sat down. Kasey must've gotten her right before she sat. Love it!
And I saved my absolute favorite for last. (We actually got a lot more shots than I've included here.) Expect to see this one in a big frame at our house. As soon as I get it printed, that is...