There is a big, beautiful lake about three-ish hours from where we live and it's THE place to go in the summertime. Lots of people in our area have lake houses near it and call it their second home. We don't have a house there but everyone in my family has visited it with friends at some point...except me. Yep, I've lived here and heard about this lake and fun boating stories my whole life and have never even been!
Until now.
Two weeks ago the friends that went to the beach with us invited our family and two other families to join them at the lake for the weekend. To most people, one house full of 8 adults and seven kids aged three and under would sound like a nightmare, but we had SO much fun! And it helped that it was an enormous, 8-bedroom house. :)
One of the homeowners, Laura, had to work late on Friday so she couldn't leave as early as everyone else. I volunteered to hang back and wait for her while Matt went ahead with her husband, Justin, and three of our four kids. (Their baby, Reed, rode with Laura and me.) The other families went early too. Laura and I didn't arrive until almost 10pm that night so we missed out on dinner and that night's festivities. This picture that was texted to us, though, shows that the kids made quick work of messing up the playroom!
As Laura and I were getting close, we were sent this picture of the Daddies reading bedtime stories. So sweet! And we were excited about the kids already being in bed when we arrived, ha! :)
My excitement was premature because it ended up being the worst night of sleep for Matt and me! More so him than me. Our kids just would NOT go. to. sleep. We ended up splitting them up with me being with Katie Wynn in one room and Matt and Thomas sleeping in another. Matt said Thomas didn't fall asleep until close to midnight and even then, it wasn't good sleep. I think they were just too excited about spending a weekend with their buddies.
A bad night of sleep didn't keep the kids from waking up in the 6 o'clock hour! Poor Matt - even when he feels like a zombie, the kids still flock to him. They surrounded him for breakfast that morning. :)
The plan for Saturday was to spend the whole day out on the water, and that's exactly what we did! I'll be honest, I was a little unsure how having 15 people together on one boat all day long could be fun, but my worries were for nothing. The boat was plenty big enough for all of us and everyone - the kids especially - had a great time out on the water.
Here we are pulling out of the boat slip. We had barely even been on the boat for five minutes and you can see my child has already pulled out the first bag of snacks. The treats they got to eat may have been one reason they thought boating was so much fun...
These four are partners in crime! They have all been in daycare and Sunday School together for the last couple of years and will start preschool together this fall. From left to right - Katie Wynn, Levi, Addi Clare, and Mason.
After riding around to find the perfect spot, we finally anchored down so the kids could jump out and swim. Can you believe my child - the shy, clingy one that is timid about everything and had never even seen a lake before - was the first one to jump into the water!? I wouldn't believe it if I hadn't seen it with my own two eyes.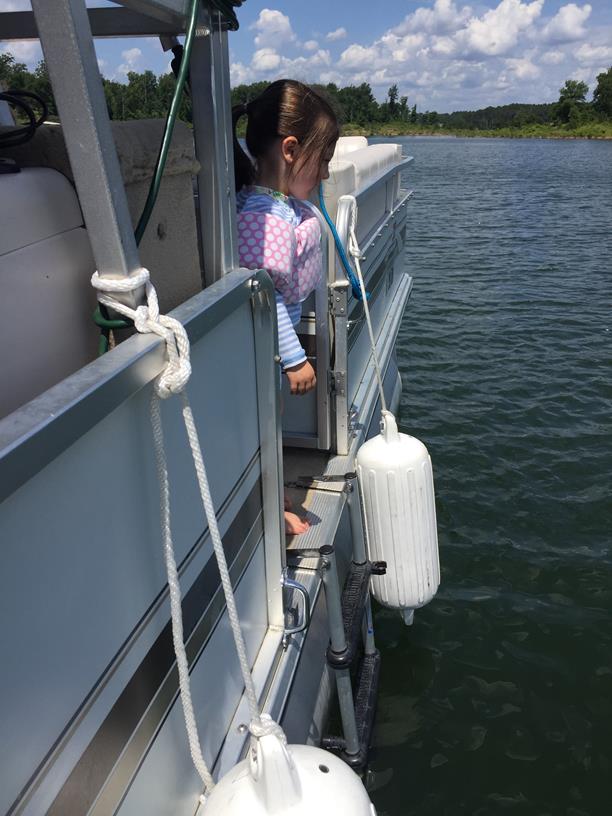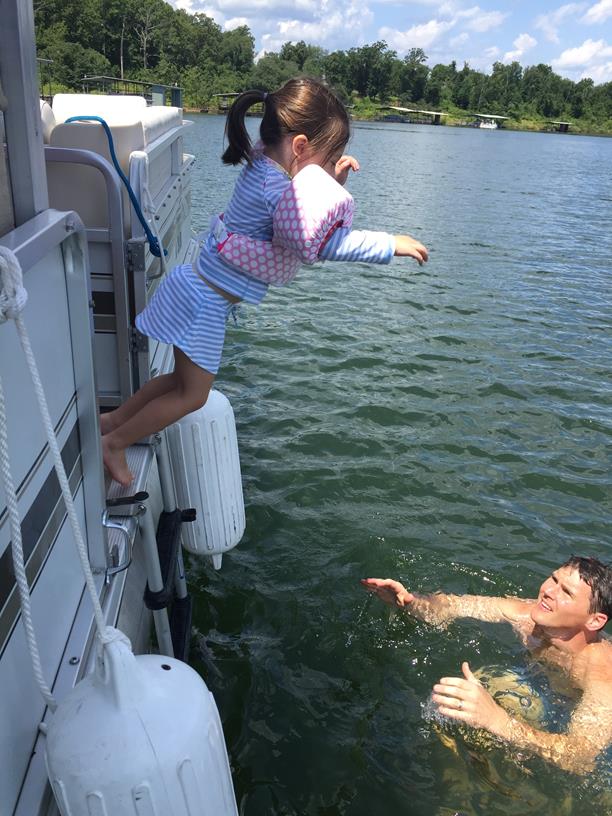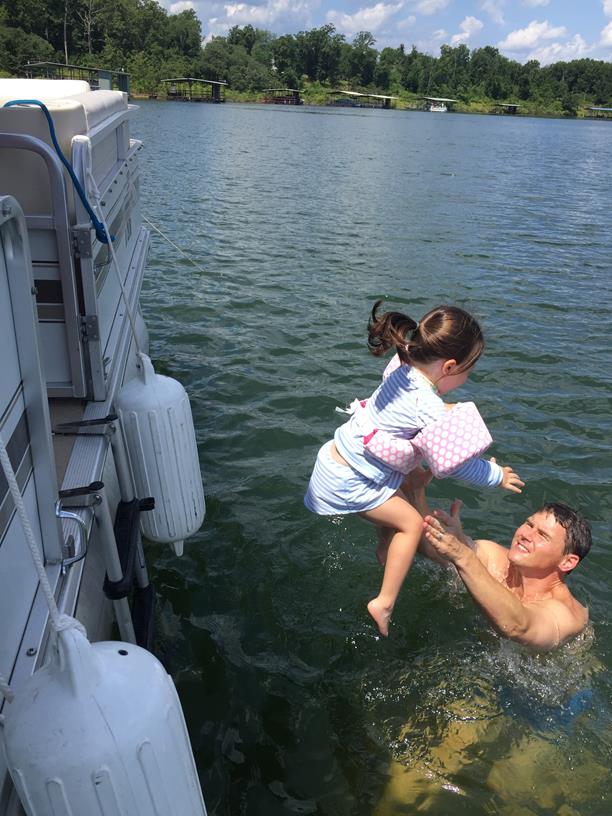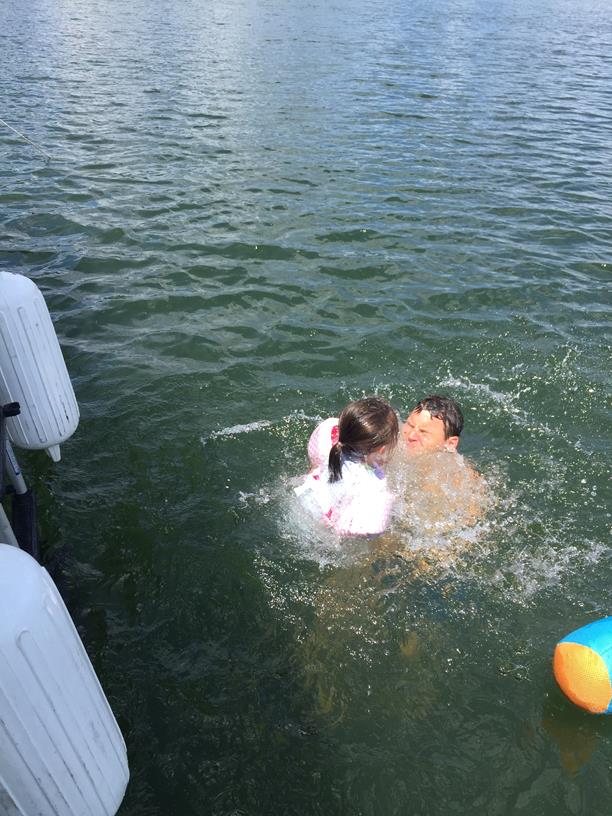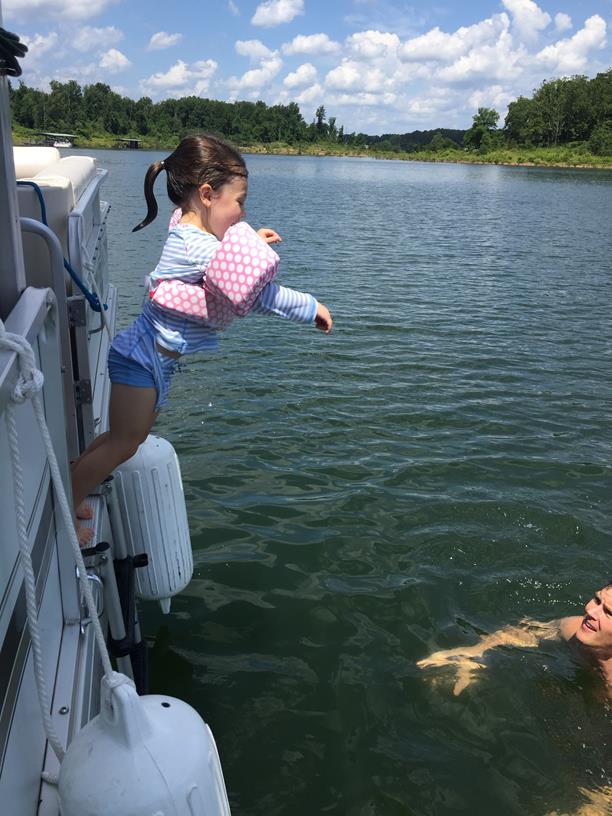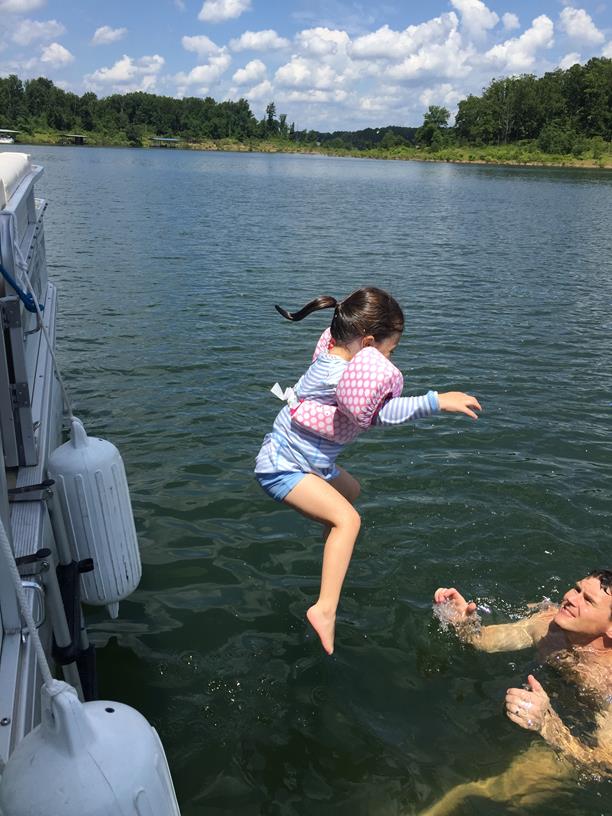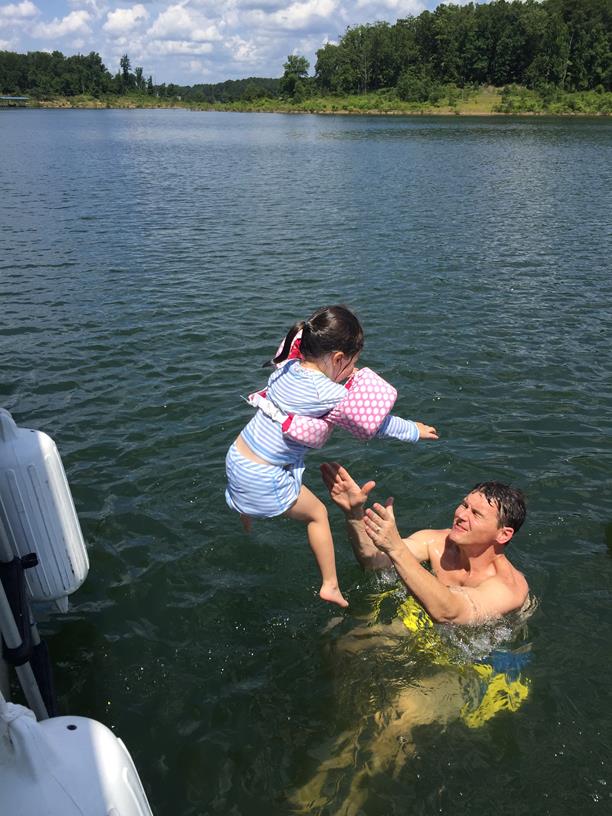 She was so brave. I have just been blown away over and over with how much she loves jumping into the water. Her favorite part is going under! I think she would've jumped and jumped and jumped all day until she absolutely had no energy left to do it anymore. In fact, this love of jumping off the boat caused a teeny, tiny bit of a meltdown (read: it was the worst meltdown to date...nonstop screaming and crying because she couldn't be the "first" to jump off every single time and had to wait her turn...we had to swim way out into the water to get her loud screams away from the group...it was epic...and embarrassing....and it's a wonder our friends even still talk to us). So we're embracing her love of the water while also now working on taking turns with our friends.
This guy? Not jumping off the boat. And not handing over that paci.
Once we made it past the meltdown of all meltdowns, all the kids and Dads had fun swimming in the lake and jumping off the boat!
Thomas finally made it in with a little prodding. No jumping, though. He was carefully handed down to his daddy!
Here's proof that even Mama got in the water! (I mean, everyone's gotta have a potty break at some point, right?)
On-board was a real snoozefest. ;)
After lunch on the boat, Mr. Justin blew up the big raft so we could go tubing! He was nice enough to let Katie Wynn and Addi Clare go first. Good call on his part so we could avoid another meltdown - especially since at this point, we were officially skipping nap time.
Again, I'm blown away that she did it, let alone went first! Who is this child?!
The boys watched and patiently waited their turn.
Mr. Justin, Levi, and Mason were more daring and went fast!
Poor Thomas is stuck in the middle of all the kids. He's a year behind the "big" kids and two years older than the babies. He tried hard to hang all day with the three-year-olds but just couldn't keep up. The afternoon caught up with him and he finally fell asleep in my lap. And he cracked me up the whole time.
Before calling it day on the lake, we tried for a picture of all seven kids together. (By the way, in one more week it will be EIGHT kids instead of 7...Addi Clare's little brother is almost here!)
Levi and baby Reed win the award for cutest pictures of the day!
I didn't take a single picture the rest of Saturday. We got back to the lake house and bathed the kids before having a huge feast for dinner! Cheese and sausage plate, grilled chicken, hot dogs and hamburgers, baked beans, corn on the cob, and on and on. Oh, and Paula Deen's banana pudding. Our kids made up for their horrible night of sleep the previous night by crashing early and sleeping soundly all night. I accidentally fell asleep while putting Katie Wynn to bed so if anything fun happened later that night, I missed it. :)
The swimsuits went back on Sunday morning. And some upside down sunglasses for Thomas.
This picture of Katie Wynn (at right) is probably my favorite one from the trip. When I look at it, I can almost hear her belly laugh. She was laughing at Thomas and his silliness and was just in the best mood. This is what joy looks like to me.
Have I mentioned on here how much Thomas loves Levi? Like, he kinda idolizes him. Ever since "my Levi" (as he's called by Thomas) went to the beach with us, we've been able to use Levi as a way to get Thomas to do things. "Well, Levi wears sunscreen so you better put yours on too." "Levi wears a hat on his head, don't you want to wear yours?" It's pretty cute to watch Thomas watch Levi and also quite handy to use when he doesn't want to do something. :) Of course I loved it that they were dressed similarly on Sunday. And who knew wearing a cap backwards could make Thomas look like he's ready for college??
Instead of going back out on the boat, we took the kids over to the swimming area to wear them out before the drive back home that afternoon.
As I posted on Instagram that day, "You know your Mom owns an embroidery machine when, even at the lake, you're rocking three different monograms." No such thing as too many monograms, right?
We let the kids swim and play for a couple hours before returning to the house for baths, lunch, and packing up. Our ride home was pretty smooth sailing since three of the four of us took awesome naps. Thank goodness Matt stayed awake behind the wheel!
HUGE thank you to Laura and Justin for inviting us to the lake for such a fun weekend! You were awesome hosts and we had such a wonderful time! Now that my first trip to the lake is in the books, I'm ready to do it again. Maybe we need a lake house of our own......